Semiconductor industry tries to re-architect itself
Consolidation to boost Elpida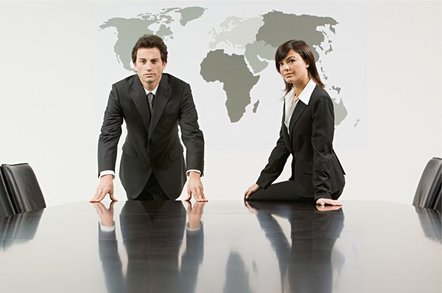 Comment In the face of a foundry chip glut and recession-induced demand slump the world's semi-conductor industry is experiencing shock and disruption with moves afoot for government aid, mergers and a bankruptcy.
The Japanese Nikkei newspaper reports that Japan-based Elpida is going to combine with three Taiwan-based semi-conductor firms: Powerchip, ProMOS, and Rexchip. This would alter the structure of the industry. The story goes like this:
Samsung Electronics of Korea is the leading memory maker with a 30.3 per cent share. Hynix, also in Korea, is currently no. 2 in the industry with a 19.1 per cent share. Elpida is no. 3 with a 19.1 per cent share. Fourth is Micron in the USA with a 10.8 per cent, followed by Qimonda, now in bankruptcy for restructuring - hopefully, with a 9.6 per cent share. Then there is Nanya of Taiwan with a 4.4 per cent share.
The DRAM industry is faced with massive capital costs to fund research and development and fabrication plant refitting and/or building as it moves to smaller scale processes so as to increase the number of chips per wafer and so lower the cost-per-chip. It is simultaneously moving to denser and faster memories and there has been a protracted set of lawsuits between DRAM suppliers and Rambus over memory technologies which, if Rambus wins, will see it harvesting tens of millions of dollars of license or royalty revenue plus any penalty payments. There have also been settlements of price-fixing lawsuits.
All the DRAM suppliers have been making losses as chip prices have dropped to encourage the few buyers, for example, Samsung. Elpida announced a net loss of ¥72.3bn ($804m) for the last quarter of 2008. This was its biggest loss so far and compares to a ¥12.1bn one in Q4 2007.
Government aid is being discussed both in Taiwan and Japan to help the two countries' beleagured memory makers. The Taiwanese government is now talking about a NT$70bn ($2.06bn) industry injection of funds to help consolidation.
The idea, backed by Elpida, is to combine the DRAM operations of Elpida and the three Taiwanese memory makers above. Rexchip is actually a joint-venture between Elpida and Powerchip so the grand merger in a sense has already started. Elpida does not want to make any substantive and binding progress until it knows how much money the three Taiwan concerns will actually get from their government. One of them, ProMOS, needs cash quickly to make bond payments due this week.
Elpida may also apply to its own government's bailout fund. The need to clarify the capital health of the four businesses involved and then agree which type of DRAM chips are manufactured where, means that a formal merger, if it happens, will take many months to come to fruition. It will inevitably result in semi-conductor fabrication capacity being de-commissioned.
If the merger happens then the combined group would rank no. 2 in the industry with a 23.6 per cent share of the market.
Another possible consolidation would build on the existing relationship etween Nanya and Micron, forming an entity with a 15.2 per cent share. Industry observers have also speculated about a possible tie-up between the two Korean DRAM firms, Samsung and Hynix.
The result would be an industry with three major players, dominated by a Samsung-Hynix concern, then an Elpida-Powerchip-ProMOS-Rexchip business, and a Micron-Nanya one. This would take out a large amount of excess capacity and provide for memory supply and demand to return to a more balanced relationship, much as happened with the hard disk drive industry over the last five years.
It is a measure of how sickly the DRAM industry is that cross-border consolidation is being actively discussed, as the three Far East governments involved - Japan, Korea; and Taiwan - have all pursued policies of supporting local champions in this industry in the past. A complicating factor is that many of the DRAM suppliers also have flash memory operations.
For example, Samsung recently tried to take over SanDisk to bulk up its flash business. Micron has a joint-venture with Intel, Intel Micron Flash Technologies, and has just announced a major push to develop its mobile phone memory business. The intersection of national pride, deeply troubled and financially-vulnerable firms, DRAM and flash, with Government aid means that industry consolidation is very likely but whether it follows the outline described here is very much an open question. ®