Spotify: We kick the tyres
Best thing since sliced vinyl?
The Spotify repertoire
The company has earned itself a good reputation for being meticulous and above board with licensing. Licensing digital music is a nightmare, and requires a major investment, but Spotify is trying hard: the four majors are present, indie network Merlin, and Orchard.
And unless the first thing you want to hear is one of the big-name hold-outs - Led Zeppelin, The Beatles, Pink Floyd - you'll be pleasantly surprised at the extent of what's an offer. Here, at last, is all the stuff you never got round to hearing, or buying. Hear 15 versions of Spooky in a row! Hear all those old mid-70s Rolling Stones albums you never got round to buying!
Then, unfortunately, the gaps start to become apparent. Whole genres are absent (trance), and in some genres, there's a patchy make-do selection (techno with no Derrick May?). Well, maybe you don't dance to techno anymore, but you might want to dig out originals of your favourites: here's where a "universal" jukebox can and should provide a service over the best second hand record shop, by virtue of completeness and instant availability.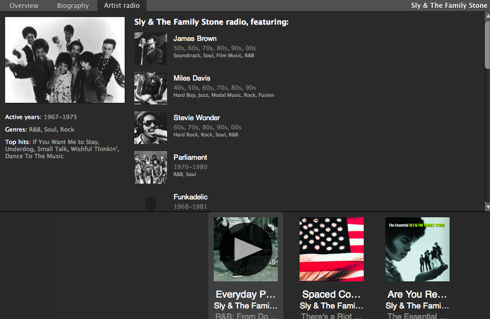 It's not radio, just links to a few more artist
Alas, many artists are represented only by their "greatest hits" collections, and this is often a cheesy re-re-packaging. This has some strange consequences. You can find many cover versions of She's Not There but not the Zombies' original - something hospital radio can deliver OK. Cult classics like The Small Faces' Ogden's Nut Gone Flake are absent. How do you make your own decent playlist or compilation when so much is missing? There's just one Funkadelic song.
Frustratingly too - I found this quite bizarre - where the original albums are included in Spotify, the year of release may be of re-release. With so few options with which to browse the service, this is needlessly confusing, but poor metadata plagues these services.
Now there are two caveats to these criticisms.
Firstly, they aren't necessarily the fault of Spotify. The huge gaps in a "universal" service are an illustration of the mess of digital licensing. If you go to Amazon.com, you won't find those missing Small Faces originals for MP3 download either. Not all labels have gone to the trouble of making high quality digital masters available to be licensees, and some haven't bothered making them at all.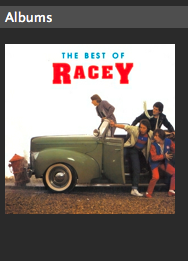 No Funkadelic or Led Zepp - but will this do?
Secondly, the gaps are being filled. Only last week Patti Smith's Horses appeared, along with 1,600 new additions (updates are listed in this document) including ... Perry Como's Christmas Songs. Aaah.
But it does offer a sharp reminder that the real benefit of P2P isn't actually technical - it's completeness. Someone, somewhere will have what you're after - and fans also provide the bootlegs, concert recordings and other material not in the official catalog.
So for now, for all Spotify's riches, you end up listening to music you didn't get round to hearing in the first place, or buying. There may be actually reason you're listening to that music now, though: it just wasn't very good in the first place. Sorry, Keith & Mick - those mid-70s albums are alright, but they're not great records.