NetApp boss flying high on Phenom?
500 employees get pink slips. He gets a new jet
As 500 NetApp staffers get their pink slips, it appears their their boss has a new airplane, an EMB-500 turbo-jet.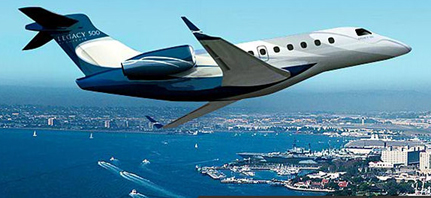 The jet is made by Embraer-Empresa of Brazil and has a serial number of 50000010. You can see the US FAA record for this jet registered to Dan Warmenhoven here. (Click on the 673DC link). It is a light business jet with twin Pratt and Whitney turbofan engines mounted at the rear and is also known as the Phenom-100. There is no connection with AMD.
The Phenom-100 costs around $3m and will seat up to six passengers, though typically it will have 4 seats. We're told the cabin has a rigid lavatory door and a 45cu ft rear compartment for luggage. The plane has a range of 1,160 nautical miles and cruises at 380 knots.
The jet is for Dan Warmenhoven's private use and is not a NetApp corporate airplane.
NetApp's VP for corporate relations, Eric Brown, said: "Dan placed an order for a new plane two years ago and it was just recently delivered because of a long waiting list. The waiting list today for that particular model is now four years plus. The global economy was in a very healthy spot two years ago and no one foresaw the decline that has been gripping the world recently."
Concerning the layoffs announced on Monday, he added: "Dan was personally committed to making sure NetApp employees around the world got severance packages that would go beyond what even the most generous packages typically include - in line with his own ethics and our commitment to be a model company."
"As an example, all US employees will be paid their annual bonus pro-rated for the first three quarters of the year along our bonus accrual guidelines. That is extremely rare in severance payouts...I hope this example shows that we as a company and Dan in particular as our CEO and as a compassionate man do not take a reduction in force as something trivial." ®