Dell launches perfume ad teaser site for Macbook Air rival
We want some fraking details!
Dell is definitely taking a page from Apple with the imminent launch of its Adamo ultra-portable laptop. Not only does the PC giant have the anticipated mobile pinned as a Macbook Air killer, Dell has been as tight-lipped on details as the Cupertino-based cult.
Dell's been seriously milking the Adamo intrigue business for months now. It calls the slim laptop its new "luxury franchise," without so much as a speck of its specs or pricing info. Dell even teased journos at CES in Las Vegas by bringing the Adamo out briefly on stage - and then walking it out without details of what's inside.
In that vein, the PC maker has launched an Adamo website, advising visitors to "prepare to fall in love" and to surrender their full name and email address to "be among the first to fall."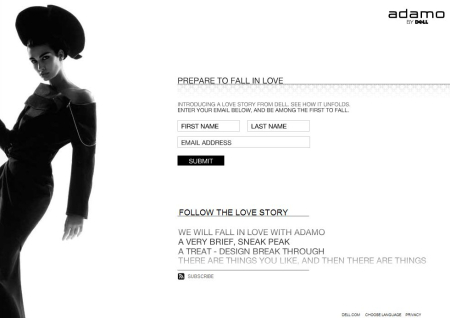 Adamo: so small it can fit in your enormous hat
Probably not the greatest way to phrase that, but we assume it'll just put you on the mailing list to get an email ad on launch day.
Don't go to the website expecting details, however. At this point you really can't tell if the page wants you to buy a Dell ultra-thin laptop, perfume, or Calvin Klein undies. Not a single laptop to seen there. But if you're looking for a website to watch a loop of four models shot in black and white looking sexy, it's really terrific resource.
Adamo Speculationville: population you and the Reg. We assume the the ultraportable will sport a 13-inch screen based on leaked accessories for the machine calling the device "Adamo Thirteen." Or at least, the first model of Adamo sold. And although the Adamo is supposed to be slimmer than a Macbook Air, it's not being marketed as a netbook, which means it shouldn't be running on an Atom chip.
We'll be sure to have more Adamo details as it appears on our DRADIS. ®