Americans get indoor iPhones
Femtocells supersize while picocells go femto
Femtocells have arrived on the AT&T network in the USA, or "microcells" as it prefers to call them. Whatever the name, they will still offer 3G connectivity for iPhone users from the comfort of their own home, and over their own broadband.
Base stations are getting increasingly complicated - tiny-cell specialist ip.access has just launched their latest picocell, which is like a femtocell with the range of a micro cell, a bit like the super-femtocells that some companies will be launching in Barcelona next week; only "super femtocell" is not, apparently, an officially recognised moniker so those super femtocells will actually be picocells in all but name.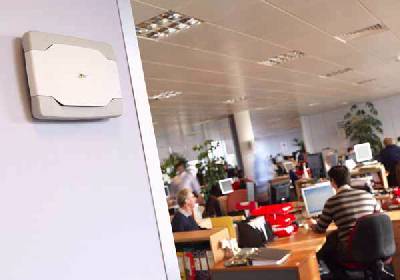 This one is a picocell, not to be confused with a super femtocell or microcell, or any part of the macro network - obviously.
Some clarification is clearly needed, and naming conventions are going to have to be tidied up. But to understand the various cells being developed, it's worth taking a look at what makes a femtocell different from a traditional network base station.
A base station consists of an antenna connected to a number of rack-mounted devices that handle the radio communications and are connected to the cellular-operator's network over a leased-line, microwave link, or happy combination of the two. Mobile phones that come into range of the base station register with it, and that registration is recorded in the Home Location Register and used to direct calls and messages.
Base stations are set up by trained technicians on the basis of radio mapping of the local area and an intimate knowledge of other base stations operating nearby. Once configured they are generally visited every now and then, though most can be remotely configured and diagnosed if problems occur.
In contrast, a femtocell is a piece of consumer electronics that is supplied by the network operator and plugged into the consumer's broadband internet connection, so it has to configure itself. Femtocells do that by detecting local base stations and slipping between them, detection being backed up with details of operator licence. Handsets connect to the femtocell, and both calls and registrations are communicated over the broadband connection to the network operator.
Obviously it has occurred to the industry that this intelligence can also be used to de-skill the installation of macro-network base stations, as well using existing internet connections to handle backhaul - which is where we find "super femtocells": providing the coverage of a picocell with the simplicity of installation that marks out a femtocell.
Picocells are generally used in network blackspots, such as shopping centres or un-windowed offices, though historically they've required the same skilled installation as larger base stations if not necessarily the head for heights. But the new picocell from ip.access, confusingly called the nano3G, can just be plugged into an Ethernet cable and sort itself out to integrate with the mobile network, in much the same way as a femtocell.
No matter how easy it is to install these cells, such installations are still the responsibility of the network operator - who owns the licence to use that spectrum. Equally, those cells can only be allowed to operate within that licence - so most femtocells have GPS capabilities to ensure they aren't being used outside the licensed area. That means they can only be used near windows, where GPS works - which is a shame given that mobile phone signals are particularly well received near windows, for reasons not worth expanding on here.
If a picocell is fitted by an operator then they can be confident that the device is being used within their licensed area. iPhone users are champing at the bit, already asking if they can take their AT&T femtocells abroad to make cheap calls home, and no doubt many of them will give it a go but be foiled by the GPS requirement. That is, unless someone manages to hack a workaround - then there'll be nothing but the threat of 51 weeks in prison (in England, six months in Scotland) to prevent everyone taking their mobile network with them when they go abroad. ®
Sponsored: Detecting cyber attacks as a small to medium business