Analyst predicts cut-price, updated 3G iPhone models
Original iPhone to re-appear, sort of
A market analyst has compiled a list of potential features that he's claimed could be included on an upcoming cut-price iPhone.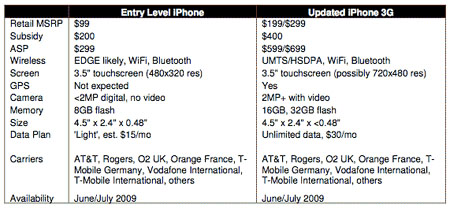 Abramsky's predictions for a cut-price iPhone (left) and updated model
The list comes from RBC Capital Markets analyst Mark Abramsky who - according to a report by Silicon Alley Insider - has predicted that the phone would cost just $99 (£68/€76).
Dubbed the "Entry Level iPhone", the device would only feature an Edge connection. It would support Wi-Fi and Bluetooth.
The model would still have a 3.5in screen – blowing rumours of an iPhone Nano out of the water – and be available as an 8GB device. A sub-2Mp camera would be included, but GPS wouldn't be.
A range of network providers, including Orange and T-Mobile, could also be allowed to sell the cheaper model alongside O2. The handset could be available from June this year.
Abramsky's also predicted development of an "updated iPhone 3G" with a higher resolution screen than the so-called entry-level model would feature. Much like existing models, the updated iPhone would come in 16GB and 32GB capacity options, but would also include GPS.
He's claimed the same range of network providers will also offer the updated model from June, but that they'll ask between $199 and $299 (£207/€231) for the device. ®