Scotland to battle grey squirrel invaders
£1.3m investment to save the native red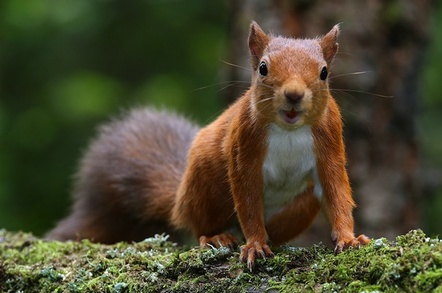 Scotland's native red squirrel population is to benefit from a £1.3m investment aimed at preventing it falling to the invading forces of its North American grey cousin.
According to the BBC, the country boasts around 121,000 reds - representing 75 per cent of the UK total. The species is under increaing pressure from the estimated 200,000 to 300,000 greys which aggressively compete for food and carry the squirrel pox virus "which can kill reds in about 14 days".
The Saving Scotland's Red Squirrels (SSRS) plan - an initiative involving Forestry Commission Scotland (FCS), Scottish Natural Heritage (SNH), the Scottish Rural Property and Business Association (SRPBA) and the Scottish Wildlife Trust (SWT) - will "develop habitats in which the red squirrel can flourish" and also "try to control the greys".
The latter will, the BBC nicely notes, "involve killing them".
SWT's Stuart Brooks said: "I can understand and empathise with those people who do not like the prospect of killing wild animals, but it is disingenuous to say that there are viable alternative solutions to saving the red squirrel in Scotland.
"Work is under way on a vaccine for squirrel pox but it is not around the corner and habitat improvements are a key component of our longer-term strategy. To do nothing now will certainly consign our native squirrel to a painful and lingering death."
SNH's Ron McDonald explained that controlling the grey squirrel "would be focussed on the key routes being used by grey squirrels to spread north". He elaborated: "Greys have already displaced red squirrels from most of England, Wales and Scotland's central belt, but much of the north still remains grey-free.
"With sightings of greys becoming more frequent in northern Perthshire and Angus, and a population of grey squirrels already established in Aberdeen, it is imperative that we act quickly to protect red squirrels north of the central belt and prevent the grey's further migration."
The SSRS plan kicks off in earnest in April. Its full list of aims is, according to the SWT:
To protect existing red squirrel populations in the Highlands, Argyll, North-East Scotland and northern Tayside.
To improve and share our knowledge and understanding of squirrel management.
To increase the involvement of private foresters and woodland owners in conservation efforts for red
To increase our knowledge of the distribution of squirrels in Scotland and maintain a process for recording and disseminating this information.
To promote the project to the public.
There are more details on the SWT website here, including squirrel distribution maps for 1990-1999 and 2000-2007 (both pdf). ®
Sponsored: Detecting cyber attacks as a small to medium business