Archos announces Android web tablet
HD playback supported
Archos has jumped onto the Android OS bandwagon and announced a slimline internet tablet that also functions as a phone.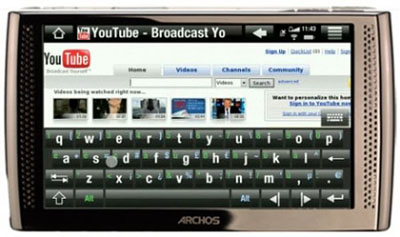 Archos' Android-based IMT has a 5in display and 7.2Mb/s HSDPA
The firm's Internet Media Tablet (IMT) has apparently been designed to provide all the functionalities of a premium smartphone alongside a high-quality web browsing experience. This is possible thanks to its 7.2Mb/s HSDPA and 2Mb/s HSUPA connection capability and lush 5in display.
Archos hasn't forgotten what the true appeal of a portable media player is though: watching films on the go. So owners will get a mammoth 500GB of storage space and the ability to play HD movies.
Despite only being 10mm thick, the Archos IMT will play video for up to seven hours and can display full-screen Flash videos when surfing the web.
Powering the device is a supposedly "laptop-like" 800MHz Texas Instruments OMAP 3440 processor.
Archos' new IMT will be released in the third quarter of 2009, but a price hasn't been announced yet. Best start saving now... ®