NASA births cliff-hanging yo-yo bot
Gravity's a bitch
NASA boffins said today they've built and tested a small and relatively simple robot that can rappel down cliffs, traverse steep terrain, and tarry about in inhospitable craters other rovers would fear to tread.
The robo prototype, called Axel, was developed by NASA's Jet Propulsion Lab and students at the California Institute of Technology. The engineers hope Axel's design can be used to aid future exploration of Mars — or even assist in Earthly search-and-rescue missions.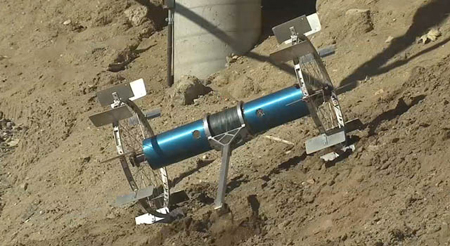 Image courtesy NASA/JPL
Axel rover — named for its single axel design and not the Guns N' Roses front man — was made with the goal of minimal complexity in mind. The rover is powered by only three actuators: two for its wheels and one for the multi-purpose trailing link.
The link works as a lever arm against wheel thrust, can adjust the pitch for Axel's twin cameras, or simply serve a backup actuator should one of the wheel actuators fail.
Axel can also work like a yo-yo, reeling out a tether that could be attached to a larger lander and pulling it back in to explore the universe's many patches of horizontally-challenged ground.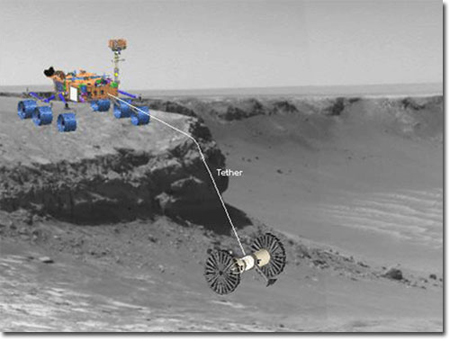 Axel concept tethered to a rover. NASA/JPL
"Axel extends our ability to explore terrains that we haven't been able to explore in the past, such as deep craters with vertically-sloped promontories," said Axel principal investigator, Issa Nesnas of JPL.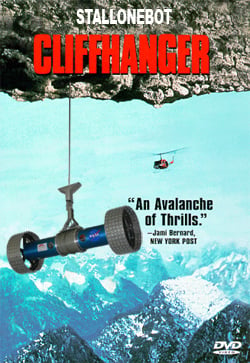 "Also, because Axel is relatively low-mass, a mission may carry a number of Axel rovers. That would give us the opportunity to be more aggressive with the terrain we would explore, while keeping the overall risk manageable."
The rover can also sport several types of wheels designed to suit the territory being explored, from large fold-able metal wheels to inflatable wheels. (Sadly, no wheels with rims that keep spinning every time you stop.)
Fitted into Axel's compact cylindrical body are computational and communication modules and an inertial sensor for navigation without a human steering and obstacle avoidance.
JPL began its work on Axel in 1999, in a partnership with Purdue University Indiana and Arkansas University.
You can watch a nifty video of Axel in action here. ®