Hacking the Apple TV
Getting in
Part 1 Apple continues to describe its Apple TV set-top box as a "hobby" project: it'll continue to develop the platform, but it's not making any money out of it yet. The gadget's a hobby project for a lot of other folk too. They want to gain access to this closed but surprisingly powerful system to make it more useful.
We've had an Apple TV unit for a while now, and we decided it was time to dig a little deeper into its foundations. Under the hood, it's essentially a tweaked Mac OS X 10.4 box. There's no shortage of information on a variety of internet sites, Awkward TV, in particular. But, like so many online guides, bits were written some time ago and not updated, while others skip steps.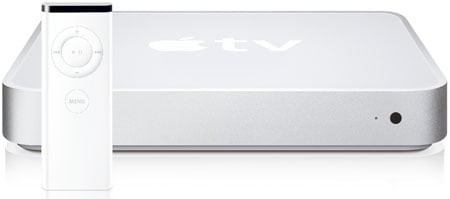 Apple's Apple TV: Mac OS X computer in set-top box form
What follows is our attempt to collate and make consistent a number of online guides, and to ensure they work on the latest version of the Apple TV's OS.
Apple released Apple TV 2.0 system software almost a year ago, and many — but not all — of the hacks posted online have been modified to work with the second-gen OS, recently upgraded to 2.3. Our Apple TV was still running 1.1, so we allowed the device to update itself to the latest version of the OS.
The Apple TV hacker's first stop should be the ATV USB Creator site, home of the premier tool for installing the basic access code into an Apple TV without having to rip the hardware apart to get your hands on the hard drive.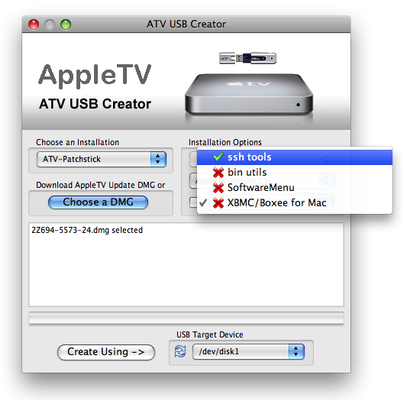 ATV USB Creator in action
There are versions of the utility for Mac and Windows machines. Both take a USB stick — it's dubbed a 'patchstick' in Apple TV hacking circles — and prep it for connection to the Apple TV's otherwise-unused USB port. ATV USB Creator will grab the latest Apple TV system software from Apple, pull out the important components and add the code that'll be installed at runtime. The result is a Flash drive that the Apple TV will boot from.
By default, ATV USB Creator will prep the drive with SSH; some general tools; a software acquisition tool for the Apple TV; XMBC, an open source media manager; and Boxee, an open source media sharing system. We didn't — for now — want anything other than SSH, which is key to access the Apple TV remotely, so we made sure only that was selected in ATV USB Creator's Installation Options.
Standard Definition Colour
Want an Apple TV, but you've only got an SD TV and you're frustrated by Apple's insistence its box only works with flat panels? The device will output a colour signal to an SD TV's composite-video input. You need to access the unit's OS, as outlined on the next page, but when you're done, you can install a composite colour hack.