23
Logic3 Valve80 thermionic iPod dock and speaker set
Does pre-transistor technology make a difference?
At best, the output can only be as good as good as the input, so if your entire music collection is in 64Kb/s MP3 then the you'd be better off saving yourself the money and disappointment. Thie Valve80 isn't going to magically make the songs sound better. But the truth is, with a good quality source, the system sounds good - not stupendous, but decent and with potential to sound a lot better.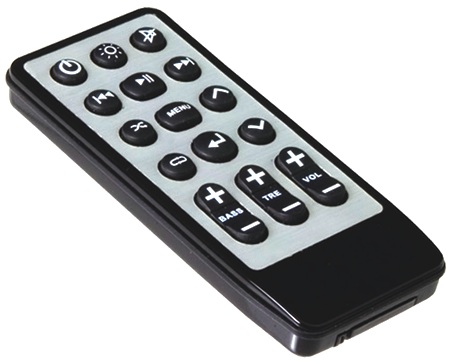 The remote's one the flimsy side
To test the Valve80, we went for a wide range of music, with songs like Duffy's Rain on your Parade really highlighting the range, warm tones and clear vocals the valves can create. However, something like Nickleback's Rockstar starts to show some of the cracks, with the bass a little lacklustre, and The Dolphin's Cry by Live sounds just a little washed out and soft around the edges.
Really meaty tracks like O Fortuna from Carl Orff's Carmina Burana and, dare we say, the Imperial March from the Empire Strikes Back soundtrack are good but lack any real oomph.
We also hooked the Valve80 up to our Xbox 360 while playing some Gears of War 2. The Stirring soundtrack and the clear crunch of the Lancer's chainsaw hacking through alien bone certainly outstripped the TV's own speakers.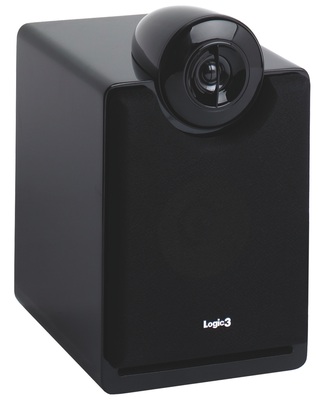 The speakers look OK, but they sound poor
Comparing it to our usual Logitech Pure-Fi Anywhere dock it's streaks ahead, but at nearly three times the price, we're not convinced it's three times better. Then we hooked up the Valve80 dock to a pair of Klipsch Synergy B2 bookshelf speakers and soon realised that the faults we noted earlier were far more those of the speakers than of the dock.
Unlike some hi-fi units, Logic 3 doesn't sell the Valve80 without the speakers, so you're either left with the option of settling for not getting the dock's full potential or forking out extra for a better set of speakers.
Verdict
Logic's Valve80 is a beautifully crafted bit of kit and a big step up from the usual deluge of iPod docks that have flooded the market over the years, but its sub-par speakers let it down. Ultimately we'd love Logic 3 offer the dock on its own allowing audiophiles to combine it with their own choice of speakers. ®
More Reviews...
| | | | |
| --- | --- | --- | --- |
| Aerielle i2i Stream | Logitech Harmony 1100 | Edifier Luna 5 | Pure Digital Avanti Flow |

Logic3 Valve80 thermionic iPod dock and speaker set
The Valve80 is a big step up from the deluge of cheap iPod docks that have flooded the market over the years, but its sub-par speakers let it down.