Police pursue crime suspect by Wii avatar
Have you seen this Mii?
Look closely at the picture below. Have you seen this man Mii before? Because Japanese police suspect its owner was involved in a recent hit and run incident.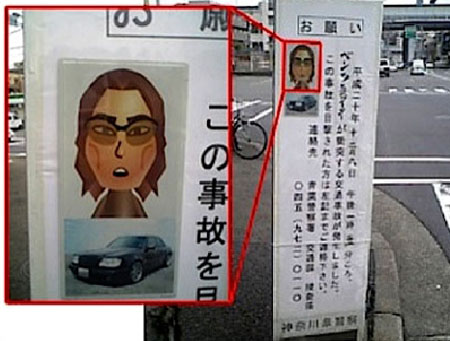 This Mii could have been in a hit and run incident
Cops in the Kanagawa area of Japan have begun sticking up pictures of the Nintendo Mii in the hope that a Wii-obsessed gamer will recognise the drawing from, say, a recent game of Wii Sports.
Register Hardware's unsure if the Mii is actually taken from the gamer's account – in which case they should be able to track the gamer down pretty easily – or if it's just a mock-up of someone seen speeding away from the scene of the crime.
Either way, it simply goes to show how heavily the Wii has infiltrated our culture. ®
Sponsored: Detecting cyber attacks as a small to medium business