Sony Ericsson Walkman W302 budget music phone
Recession-busting wonder?
The music player is crucial to Walkman phones and here at least, Sony Ericsson doesn't appear to have skimped in a major way. There are none of the fancy extras like SE's SensMe emotive search system, or shake control, both of which are to be found on the more expensive Walkman handsets - though it could be argued that those innovations are less than essential.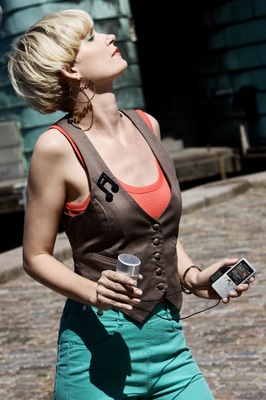 A good music mobile bundled with decent enough 'phones
But there is a five-band graphic equaliser with which you can choose between ten preset levels or set manually, and there's a reasonably effective stereo widening setting which gives the impression of broadening the soundstage. It's a good, solid music player, in other words, that's easy to load and presents your music well.
The W302 could perhaps have presented it a little better had Sony Ericsson bundled a top-of-the-range set of earphones, but the cheaper bundled pair are decent enough to get by. There's no 3.5mm socket in the casing but the 'phones come with an adaptor for the SE charging plug, so it's easy to upgrade to your cans of choice.
The phone also has stereo Bluetooth as well if you feel the need for a wireless pair and it's a multi-tasking music player too, so you can play your tunes while playing games, browsing the internet or sending texts.
Other music extras include the addictive TrackID service, which lets you identify tracks on the phone's built-in FM radio - or any other radio come to that, or TV, or CD player - with the help of the phone's 2.5G internet connection.


No 3.5mm earphones socket, only a side-mounted multi-connector
Incidentally, the radio features nine presets, which isn't a feast but you won't starve from a lack of fave radio stations, and you can switch between listening in mono or stereo to improve reception. It includes RDS info too, but unfortunately, you can't search automatically for stations – you'll need to scroll through the frequencies manually to find something that suits which is fine if you know what you're looking for, but soon becomes a bit of a chore if you're just browsing.
Memory-wise, you'll need the 512MB Memory Stick Micro that comes with the handset, since the measly 20MB of on-board memory will barely hold an album's worth of tunes. It can accept up to 4GB cards, which seems like an unnecessary limitation in these 16GB days.