Desktop integrated graphics shoot-out
The best IGPs from Intel, AMD and Nvidia slug it out
Core 2 on Intel G45 with GMA X4500 HD graphics
Example motherboard: Intel DG45ID (£95)

As you'll see from our test results, the Core 2 Duo E8500 systems idle at 50-55W and draw 75-85W under load. The AMD systems have a higher power draw of 80-100W at idle and 130-135W under load which would have been reduced by 20W if we had used a 2.5GHz Athlon X2 4850e. The downside is that CPU performance would have dropped by some 20 per cent which may be perfectly acceptable for Media Centre aficionados but it would have shown the AMD chipsets in a poor light as the Core 2 already had a significant lead in the performance stakes.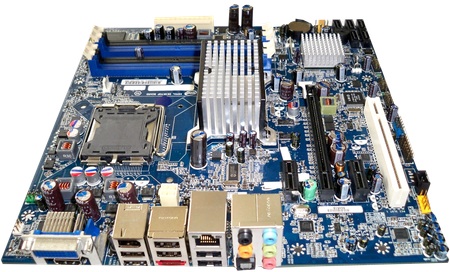 Intel's DG45ID: overshadowed by its rivals?
Windows Vista forced Intel to raise its game with a succession of graphics cores that started with the GMA X3000 and then stepped through GMA X3100 and GMA X3500. Although these chipsets offered improvements both in terms of features and performance it's only with the GMA X4500 HD graphics core in the G45 chipset that Intel has finally provided an IGP that delivers the goods. The X4500 HD also supports the full range of HD video formats, thanks to what Intel calls Clear Video technology, so if you're only looking at specifications the G45 chipset looks like a genuine contender.
In our tests, we found that the GMA X4500 HD delivered significantly lower gaming results than the other graphics chips which is no doubt due in part to the fact that Intel uses a mere ten unified shaders that run at a relatively slow 800MHz. By contrast, Nvidia runs its 16 shaders at 1500MHz, while AMD uses 40 shaders in its Radeon HD 3300 IGP core.
In addition, that we found that the quality of Blu-ray playback was affected by the BIOS release, which seems to be the result of hardware decoding being incorrectly disabled in some versions. The system performance of G45 is very good and the power draw is low with the result that the chipset and its passive cooler barely get warm to the touch. However, the graphics are a distinct weakness. You can buy a GeForce 9300 motherboard for the same price as a G45 model and that makes it difficult to recommend the Intel option.
Verdict
Once AMD stopped producing ATI chipsets for Core 2, we had no choice but to use Intel graphics. Nvidia has now stepped into the breach and in the process it has overshadowed Intel's G45 and GMA X4500 HD graphics.