Pure Digital Avanti Flow internet radio and iPod speaker
Pure's DAB/Wi-Fi line-up gets iPod friendly
Review Rather than seeing this product as a beefed up DAB/Internet radio, it's far more accurate to view Pure Digital's Avanti Flow as a micro hi-fi system for the internet age. Its iPod dock and media streaming capabilities - there's no CD player - means the player is firmly aimed at an audience that has fully embraced the online world, but wants an attractive tabletop unit to play their music.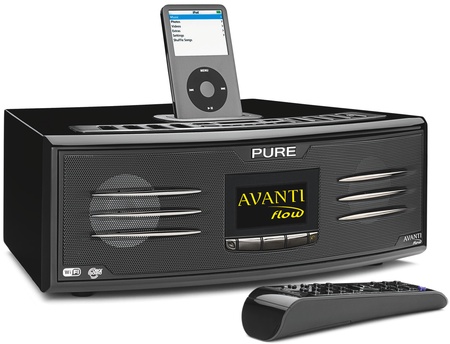 Pure's Avanti:
The Avanti delivers all of its functionality in an easy to use and effective way, so once set up, you'll be likely to use all the features rather than forgetting a third of what the product can do after the first flush of ownership is past. It also delvers a genuinely impressive level of sound reproduction.
First impressions out of the box are good. The gloss black finish coupled with the metallic silver flashes on the main driver unit grilles give the unit a very attractive appearance. The Avanti really looks like it means business. Picking the machine up, you'll find the Avanti seems very solid and the build quality feels of a good standard.
Attention to detail is underlined by the fact that the unit comes in a rather nice soft drawstring bag to make sure it can be transported its attractive livery without being scratched. There are also durable rubber feet to give the Avanti a solid and non-slip platform to work from. The same rubberised texture has been applied to the underside of the remote so it won't slide around on fashionable glass tables.
DAB - Band III and L-Band - set-up is quick but powerful. The Avanti has reception abilities - on FM mode too - beyond most portable systems, picking up stations that weren't spotted by other DAB radios tested in exactly the same location. The unit has a large, yellow and black OLED display which sits above metallic buttons. Further controls are sited on the top of the unit, and are all clearly labeled for easy access to every one of the unit's capabilities. The remote can control all of the machines features too.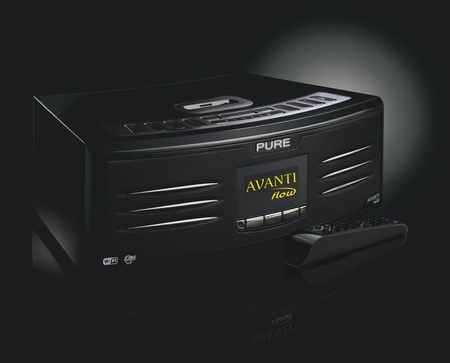 Ready to rock
The display also scrolls up, rather than from right to left as is the case on most other DAB devices. The Avanti way is actually far easier to read and feels far more natural.