Nokia locates key-finding phone add-on
No more hands down the back of the sofa
Remember those gadgets that beep when you lose your keys? Nokia has designed a version that helps locate stuff using your mobile phone.
The concept Locate Sensor is "no bigger than a small thumb" and can be attached to virtually anything, including your house keys. The sensor beams its location to an application on your mobile phone, which ultimately helps you track down your missing possessions.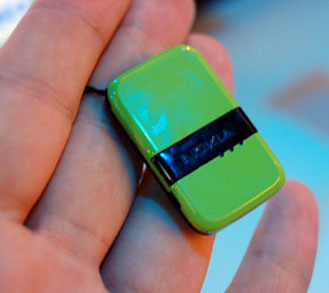 Nokia's Locate Sensor: helps find lost items using your mobile
Nokia said the software can support up to 100 individual sensors, but you'll need to be within 100m of each lost item for the device to find it. Each sensor's battery can run for 18 months.
Since Locate Sensor's still in development at Nokia, the Finnish handset manufacturer is pretty sketchy about exactly how the software works. For example, does it show the lost item on a map? Or does it bleep more loudly the closer you get to the missing object?
We hope it shouts 'warmer' or 'colder', depending on how close (or not) you are.
Whatever, it's too early for Nokia to give a launch date or price yet. ®