Star Wars brainwave toy blows in
Is the brainwave force strong in you?
The latest toy to cash-in on the brainwave-controlled gaming fad has been unveiled and it's a Star Wars-themed tube, of sorts.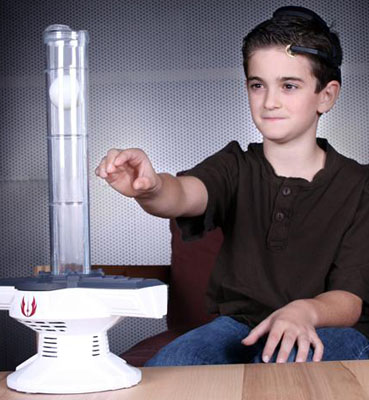 The Force Trainer
The Force Trainer simply requires its user to strap a wireless brainwave analyser around their head and then to concentrate their thoughts on raising a ping-pong ball up a 10in vertical tube. The harder they concentrate, the faster a fan in the gadget's base spins, which pushes the ball upwards.
It's been designed by US toy firm Uncle Milton Industries and, although it lacks the technical prowess of Emotiv Systems' Epoc neuroheadset, The Force Trainer sounds remarkably similar to Mattel's MindFlex game – seen at CES last week.
But quite why Uncle Milton felt it necessary to brand the game as a Star Wars toy is unclear. Because even Darth Vader would get surely board of levitating a ball up and down a vertical tube faster than you can say Dark Side.
Nonetheless, The Force Trainer is expected to find its way into shops later this year for around $100 (£66/€74). ®
Sponsored: How to Process, Wrangle, Analyze and Visualize your Data with Three Complementary Tools