GM's Lutz shows luxury 'leccy Cadillac
Voltec based
'Leccy Tech In what must be one of the most unlikely announcements ever made at a motor show, a sleek extended range EV coupé concept has been unveiled by... Cadillac.
Called the Converj and designed by British designer Simon Cox, the frankly rather impressive Cadi concept uses the same running gear as the Chevrolet Volt – now being called Voltec by GM - suggesting it may start to crop up across the General Motors' fleet.
Bob Lutz, GM's vice chairman of Global Product Development, said the Converj concept has "production substance".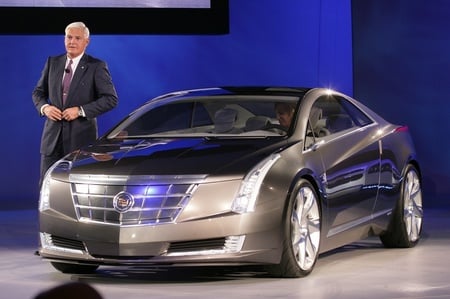 Cadillac's Converj and friend: luxury EV
"It's a logical extension of our plan to reinvent the automobile," said Lutz. "It clearly shows what a Cadillac electric vehicle could look like, and clearly indicates that global luxury customers can have a car that has both strong design and electric propulsion with a total range of hundreds of anxiety-free miles."
The Converj features a large glass roof incorporating solar panels to further extend the vehicle's range.
According to Cadillac's numbers, the Converj's 'leccy motor produces 120kW (161bhp) of power – up from 111kW in the Volt - and 273lb ft of torque from a lithium-ion battery pack rated at 16kWh. Top speed is quoted as 100mph. ®