Hands on with Samsung's touch-controlled P3 media player
Finger-flicking good
Moving from page to page is simply a matter of swiping your finger to the left or right. It was a little disappointing to find you can't swipe directly from page five back to page one, but that was really the only criticism we could make.
We aren't entirely sure you'll ever need five pages worth - that would be over 70 widgets, after all. As it stands, the P3's touch screen UI is the best Samsung have come up with on either a phone or a media player.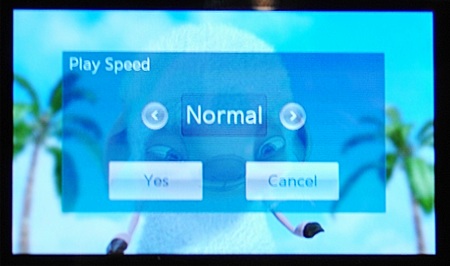 Speed up or slow down your videos
Despite the Samsung flacks growling "no pictures" as if we wanted to take snaps of the inside of NORAD and constantly reminding us that the device we were messing about with was a prototype it looked pretty much like the finished article, with only the EQ settings and DNSe 3.0 music modification protocols refusing to fire up. We sneaked back later to take these shots.
Of course, this meant we couldn't make any judgements on sound quality or discover if the DNSe 3.0 sounds modifiers worked with video as well as audio playback, but being a Samsung its is probably a fair bet to assume the P3 will be one of the better-sounding devices in the market place.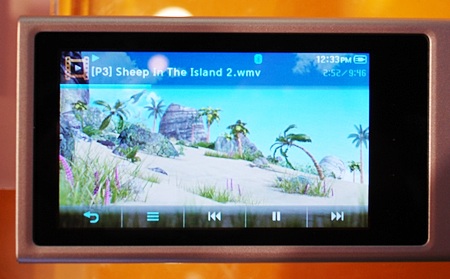 Video playback looked good
The specification list shown we saw at Samsung's CES stand suggests a coin has dropped in Seoul. To start with, it lists AVI as a supported video format rather than Sammy's pointless own take on it, SVI. The player also handles H.264, WMV and MPEG 4. On the audio front, the supported codecs were listed as MP3, WMA, AAC and Flac. Strangely for Samsung, there was no mention of Ogg, a format even the most lowly of its players has supported to date.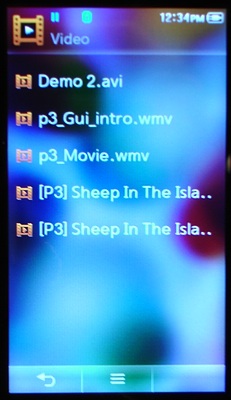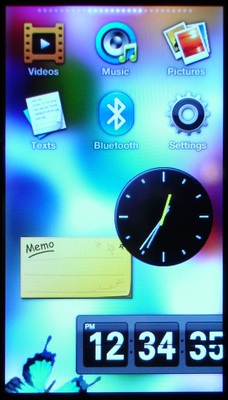 Nice UI
On first impressions, we suspect the P3 will give the Cowon S9 and iPod Touch a run for their money as a video player - and do the same for the new Sony X-series Walkman as an audio device. Much will depend on the P3's final price.
Unfortunately, when we schlepped over to the Sony stand and asked them to take one of their X-Series players out of its acrylic display case so we could try it out, the answer was a resounding and emphatic "NO!" So we put some greasy fingerprints on the case just to annoy them, and left in a huff... ®
Sponsored: Becoming a Pragmatic Security Leader