AMD claims 'fastest graphics supercomputer ever'
Down on the farm? Or up in cloud?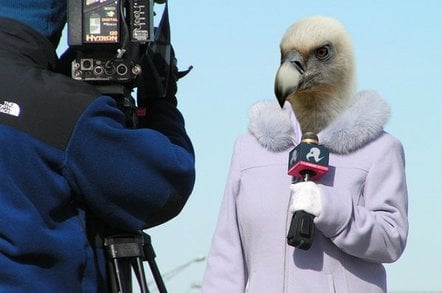 IT vendors seem to believe that if you say the word "cloud" enough, an marginal business idea will yield up revenues and profits. Much the same thing happened with grid computing - remember that? - before it morphed with utility computing into the even more nebulous cloud moniker.
So it is with the AMD Fusion Render Cloud, which would have simply been another example of a render farm used to create 3D images for computer simulations or movies if not for the cloud bit. It includes some clever software made by OTOY that allows 3D, high-definition graphics to be rendered on a set of remote servers and then displayed down the wire to a relatively modest PC or laptop. Think of it as a mainframe for graphics processing made from workstations, and you get the right idea.
Dirk Meyer, AMD's chief executive officer, presented the Fusion Render Cloud, a cluster of machines based on AMD's Phenom II processors, AMD 790 chipsets, and ATI Radeon HD 4870 graphics processors that will have over 1,000 GPUs and will deliver over 1 petaflop of aggregate computing power than can be brought to bear on remote rendering jobs.
Meyer said that the Fusion Render Cloud would be the "fastest graphics supercomputer ever," splitting hairs on what supercomputers do. Sometimes they crunch data, sometimes they render it, and sometimes they have different sets of machines doing either job.
The render farm - er, cloud - will run rendering software from OTOY, which creates software for creating special effects that are used in movies and games as well as a middleware layer created by OTOY for linking remote clients to that which is rendered (a virtual world, a 3D movie, what have you). AMD says it will provide the hardware and engineering to build the render cloud, and OTOY will do the software and tech support.
Presumably, AMD and OTOY will sell this as a solution to customers, much as Sun tried to sell its Sun Grid for remote supercomputing and application development capacity. (And basically failed to build a business and stopped accepting new customers as 2008 ended). The render cloud may even be set up with a set of Fortran compilers tweaked to make use of the GPUs, so it can be ranked in the Top 500 supercomputer list.
At least that will be some extra useful PR if this doesn't turn into a business. You can bet that Google will be able to make a business out of this if AMD can't. It won't be long before Google Games is launched, right?
If you want to get a feel for the kind of rendering OTOY has been working on, TechCrunch has a pretty good overview it wrote up last summer. ®