Asus Eee keyboard opens CES
Keyboard, display, PC, kitchen sink
CES Asus has kicked off this year's Consumer Electronics Show (CES) with a sneak preview of the upcoming Eee keyboard-cum-PC, which features an integrated display.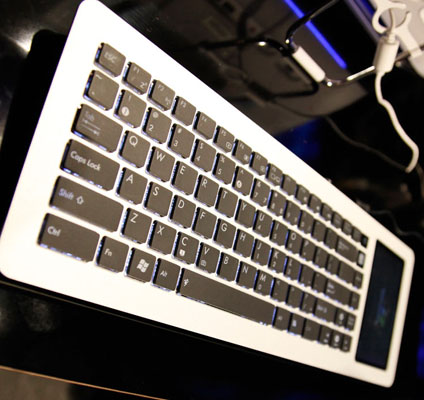 Asus' Eee keyboard was spied at CES
Images courtesy of Gizmodo
Described as a fully functional PC with inset Qwerty key arrangement, the keyboard has a 5in touch screen that displays a suite of bespoke media controls or a Windows desktop, according to a report by Stuff.
The keyboard is powered by Intel's Atom processor and incorporates a selection of USB and video ports around the back. it has solid state storage and, of course, Wi-Fi connectivity.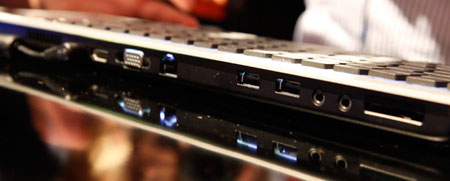 Ports-a-plenty
The device also features an Ultra-Wideband Wireless HDMI port, which could, theoretically, be used for streaming films from the keyboard to your HD TV.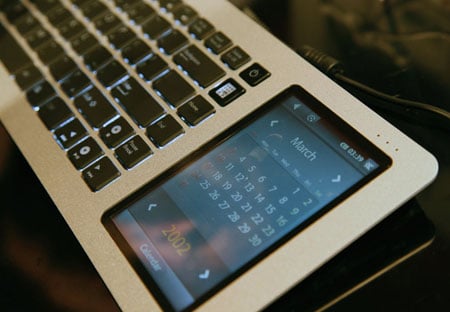 The keyboard features a 5in touchscreen
An optical drive hasn't been crammed into the keyboard, but Asus told press at the company's pre-CES conference that a range of themed peripherals will be launched following the keyboard's official release.
The keyboard is still a prototype and so its battery only lasts for around 90 minutes, but Asus expects the keyboard to run for about three hours when it hits the shops.
And when can you expect to be able to buy this funky Asus Eee keyboard? September, apparently. A price hasn't been confirmed yet. ®
Sponsored: Beyond the Data Frontier