2GB MP3 player head-to-head
Samsung's YP-U4 vs Sony's NWZ-B135F
Unfortunately, no matter how we jiggled with the Samsung, the sound we got was just a little too confined and brittle for our liking. The Sony really wasn't a whole lot better, but the basic sound it produced was more natural and the bass boost gave everything a warmth and thump which will keep less demanding listeners happy.
Both Sony and Samsung claim 16 hours of playback from a full battery charge. Our Sony died after 14 hours - the Samsung lasting 30 minutes longer. The Sony does, however, come with a "Quick Charge" facility with three minutes of recharging being good for 90 minutes of playback, a claim we found to be right on the money. By comparison, a three-minute charge of the Samsung gave us just over 45 minutes' playback.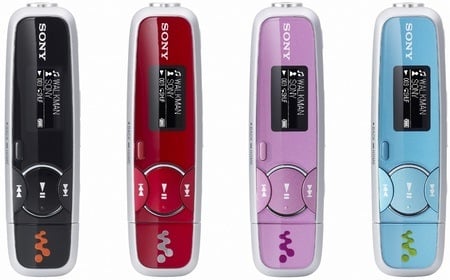 Colours!
Sony doesn't supply any software with the B series and nor did the gadget work with the handy iTunes-compatible Content Transfer application that we still had kicking around from our E- and S-series Walkman tests. Samsung bundles a cut-down media manager with the U4 which, if not as good as the EmoDio rig the Q1 comes with still does the job.
Buy direct from Sony and the B135F will set you back £39, though you should be able to get it for less from resellers. Shop around and you will find the 2GB Samsung for around the £30 mark. Of course, the fly in both Sony and Samsung's ointment is the Sansa Clip - for around the same price, it's smaller, comes with Flac support, sounds better and has a better screen. In the US, the Clip is also now available with 8GB of storage which gives it yet another advantage - assuming that variant ever makes it to the UK and the price is not prohibitive.
Verdict
A tough call. The Sony sounds the better of the two players and is easier to control, but is more expensive and comes with less storage. The Samsung has by far the better screen, plays Ogg files and is the more visually attractive. So it's the Samsung, then, by a head because you get more for less. ®
More MP3 Player Reviews...
| | | | |
| --- | --- | --- | --- |
| iPod Shuffle | Sansa Clip | Zen Mosaic | iRiver Lplayer |

2GB MP3 player head-to-head
Delivers a better sound than the Samsung, but has fewer features on offer.

2GB MP3 player head-to-head
It's cheaper, packs in more formats and has the better screen of the two players.