Huawei E176 Micro SDHC-ready HSUPA 3G modem
A fast USB dongle with worldwide connectivity
No doubt Huawei expects you to keep the SIM in there permanently, as you probably will with a carrier-tied version. The same goes for the memory card. The E176 has a flip-off panel on one side under which sits the Micro SDHC slot - and, incidentally, an antenna port.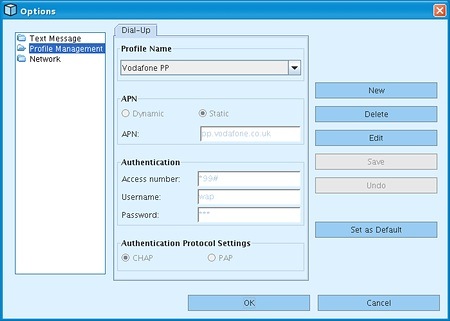 Dial-up settings in Huawei's Linux-based Mobile Partner app
The flap has a tiny raised tip that makes it easy to lift up. It also has a clip on the side to ensure it stays in place when closed - it doesn't rely on friction the way so many of these flaps do, and Huawei deserves praise for thinking this one through. Ditto for fixing the flap to the body of the modem so it doesn't get lost - yet has a long enough tether that you can get the flap out of the way of the slots.
The flaw is the slot itself. It's only a couple of millimetres below the edge of the area covered by the flap, but that's more than enough to make pushing in a card sufficiently far to trigger the locking mechanism rather hard to do. We needed a tool to do it. Likewise, pushing the card in again to eject it is hard too, and we guess that - again - Huawei expects you to slide in a card and keep it there.
That's fine, perhaps, if you see the modem's memory card slot as a way to take one USB stick with you rather than two - Flash drive and modem - but it's a pain if you want to use the E176 as a memory card reader rather than a Flash drive. It'll only take cards of up to 8GB in capacity.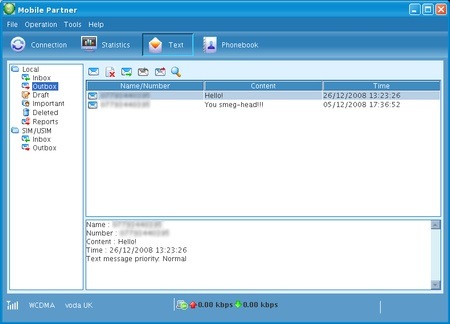 Full text-messaging support included
The E170 is an oblong, and Huawei's further attempted to make the E176 appear different by giving it rounded ends and sides. As a result, it's slightly larger than its predecessor. But then these things are small enough anyway that this is no inconvenience.