Semi-suckalicious semiconductor sales
Numbers are bad, but they've been a lot worse
Chip sales took it on the chin in November, according to a new report by the Semiconductor Industry Association (SIA), with sales dipping 9.9 per cent worldwide when compared to November of 2007.
The news is worse if you're in the Europe or the US - European sales were down 13.9 percent while the US absorbed a hefty 19.5 per cent blow.
Japan and the Asia/Pacific region did noticeably better, with drops of 7.3 and 6.2 per cent, respectively.
SIA president George Scalise exhibited an impressive grasp of the obvious when he issued a statement saying that "The worldwide economic crisis is having an impact on demand for semiconductors." Scalise then daubed a bit of lipstick on that fiscal piggy by adding, "but to a lesser degree than some other major industry sectors."
True enough - when other industries are coughing up blood, mere arterial bleeding can be seen as not so bad.
But the chip-market news is not all gloom and doom - take the book-to-bill ratio, for example. This metric is an indicator of the market's stability - the higher the number, the more chips are being ordered (book) in relation to those having been shipped and invoiced (bill). A ratio of above 1.0 indicates growth; below 1.0 indicates shrinkage.
According to the Semiconductor Equipment and Materials International (SEMI), the North American semiconductor book-to-bill ratio is improving. As recently as September it was a craptastic 0.70. However, it moved up to 0.96 in October, and in November it was exactly flat: 1.0.
While no-growth flatness is no reason to put a down payment on that yacht you've been eyeing, it does mean that either the market is stabilizing or that it's pausing before it slides fully into the dumpster. Your call.
Absolute numbers matter, as well - of course. For example, according to SEMI, the North American semiconductor industry billed for $1,159.8m worth of chip equipment in June 2008, a figure that fell to $807.3m in November's preliminary figures.
Two sides of the same coin, eh? The market appears to be stabilizing - good - but at a lower level than a few months ago - bad.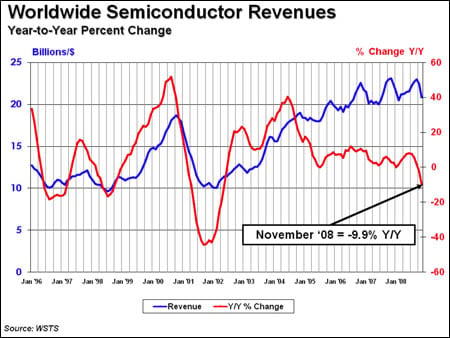 Sure, times are tough - but they've been tougher
In this morass of uncertainty, however, there's one thing that's indisputable: We've been through this before, and it was worse for the semiconductor industry last time. In mid-2001, during the depths of the carnage caused by the bursting of the dot-com bubble, the worldwide semiconductor industry saw a year-on-year drop of over 40 per cent.
Compared to that death spiral, the 9.9 per cent drop outlined in the SIA report is a mere bout of the flu. We may be living through the financial equivalent of Drillbit Taylor, but for the semiconductor industry, 2001 was a full-on Battlefield Earth.