BusinessWeek hails quantum porn engine
The year of Cuil
Still NSFW In response to our recent look back at the most ridiculous moments of the year in Silicon Valley tech, one loyal Reg reader asked why we'd failed to include the debut of Cuil.
It's a reasonable question.
At the end of July, when a trio of ex-Googlers launched a search engine of their own - still pronounced "cool" - it was widely hailed as a serious threat to their former Mountain View employers. With their now infamous press release, the trio insisted their online baby went "beyond today's search techniques," giving web surfers "a richer display of results [such as] images to identify topics."
In a way, it did. If you searched for information on, say, a work permit or a Grenoble-based quantum computing researcher, it displayed random pornography. As Reg reader Jonathan Grattage pointed out hours after the launch, he and his quantum computing research were identified with "little pictures of a US serviceman and a guy masturbating over some other poor sap":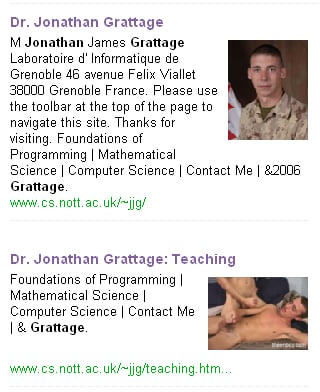 Three men who aren't Jonathan Grattage
Cuil told us it was attempting to tag each search result with an image "that will help people visually check whether the result is something they want to click on." But the mid-masturbation pic was a mistake.
At first, the startup's VP of communications blamed the random pornography on the heavy traffic that followed the engine's much-publicized launch. "There was overload on servers, and when that happens - and you lose a machine for even a minute or so - the images that machine is going to provide can't be used, and so you then have to choose from the remaining results you have," he said. "And if that machine had key images, then the quality of your results are severely affected."
But a day later, the company confessed "a serious file corruption." And even the most gullible of tech publications quickly realized that Cuil was no Google killer. As more than a few Reg readers will tell you, it was pants.
Yes, the company had quite a pedigree. CEO Tom Costello honed his search skills at Stanford University and IBM. His wife worked for Google, as did two other Cuil kids. But according to Costello college buddy Sarah Carey - aka the Strategist to the CEO - Cuil was the helpless victim of bizarre Silicon Valley social norms that force startups into wasting their venture capital on strawberries and muffins while giving employees free rein to work as little as they like.
We apologize for leaving the Cuil debut off our list of the year's most jaw-droppingly ridiculous moments. But at the very least, we avoided adding the quantum porn engine to a year-end list of the country's most successful startups. BusinessWeek cannot make the same claim.
"Cuil," BusinessWeek says, "attracted plenty of attention this summer when it launched its search engine, which it says searches more pages on the Web than any other engine - three times as many as Google and 10 times as many as Microsoft. Apart from the venture capital investment, the 30-employee company, which takes its name for the old Irish word for knowledge, has a capital expenditure line for hardware from Western Technologies."
Never mind that Google says that it indexes more pages than Cuil - still pronounced "cool." Never mind that Cuil does not take its name from the old Irish word for knowledge. Irish CEO Tom Costello says that it does. But this is another example of Costello and company littering the web with misinformation.
Cuil is the old Irish word for "rear" or "backside." As another Reg reader pointed out shortly after the site's launch, this lent new meaning to our claim that Cuil is pants.
Apparently, BusinessWeek is still impressed that Cuil raised $33.25 million in venture capital over the past four months. And it's completely unaware that the search engine gets almost no traffic.
We also apologize that our list of the year's most ridiculous moments failed to mention BusinessWeek. ®
Sponsored: Webcast: Build the next generation of your business in the public cloud