Intel births Meltdown-friendly mobile quad core
And a litter of dual cores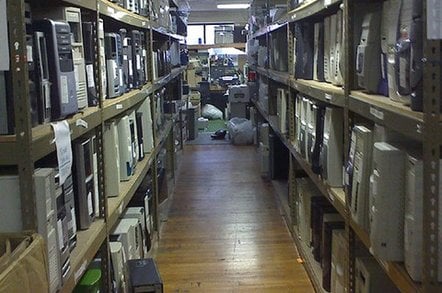 Intel has birthed a recession-friendly quad core mobile processor. And you can find one at the heart of a new Acer laptop. Maybe.
According to the Intel's latest processor price list (PDF warning), the chip giant is offering five new mobile CPUs as of December 28: one ultra-low-cost quad core and four high-end dual cores.
The new quad core - dubbed the Intel Core 2 Extreme Q9000 - offers 6MB of level 2 cache, a 1.066GHz front-side bus, and a 2GHz core clock speed. Yet it sells for only $348 (in quantities of 1,000). All other Chipzilla mobile quad cores sell for at least $851, with the top-of-line QX9300 priced at $1,038.
It would seem that the Q9000 drives Acer's Aspire 8930G-7665, an $1,800 notebook that hit stores just this morning. But Acer refers to the Aspire's CPU as the "Intel Core 2 Quad Mobile Processor Q9000" and claims it offers 12MB of L2 cache and a 2.53GHz clock speed. Those specs match up with the more-expensive QX9300.
We've asked Acer for clarification, but the company has yet to provide it.
Though we question its trustworthiness, Acer's press release also says the new Aspire includes a 18.4-inch display, 4GB of DDR3 memory, a 500GB hard drive, a Blu-ray/DVD double-layer drive, a 6-in-1 digital media card reader, and a 802.11a/g/Draft-N WiFi adapter.
In any event, Intel has also launched four Core 2 Duo dual core mobile chips: the $530 T9800 (6MB L2 cache, 2.93GHz, 1.066MHz front side bus), the $348 P9600 (6MB L2 cache, 2.66GHz, 1.066MHz front side bus), the $316 T9550 (6MB L2 cache, 2.66GHz, 1.066MHz front side bus), and the $241 P8700 (6MB L2 cache, 2.53GHz, 1.066MHz front side bus). The "T" series chips are rated at 35 watts and the "P" series at 25 watts. ®
Updated
Acer has updated its press release to say that the Aspire's Q9000 chip offers 6MB of L2 cache and a 2GHz core clock speed.
Sponsored: Detecting cyber attacks as a small to medium business