Apple MacBook Air Late 2008
Still sexy, but rather faster now
None of those features – or missing features – have changed in this new, updated model, so if the non-replaceable battery or non-existent DVD drive put you off the first time around then you're not going to change your mind now. However, improved processor, memory and graphics performance do mean that this new model is noticeably faster than its predecessor - as you'll see from our benchmark tests in due course.

Not over-endowed with ports
Like the first Air, the new version is available in two configurations. There's a model with 1.6GHz Intel Core 2 Duo processor and 120GB hard drive that costs £1271, or you can opt for a 1.86GHz processor and 128GB of solid-state storage for £1761. Both prices are lower than the original Air, which went on sale less than a year ago, would have set you back.
Both models have 2GB RAM - still non-upgradeable, unfortunately - a 13.3in, 1280 x 800 widescreen display, this time driven by an Nvidia GeForce 9400M integrated graphics core.
There's still that single USB 2.0 port, along with 802.11n wireless networking, a built-in webcam and microphone, but no Ethernet or Firewire. The dimensions and weight remain the same too: a mere 19mm at the thickest point, 320mm wide and 224mm deep, and a very well-balanced 1.36kg in weight.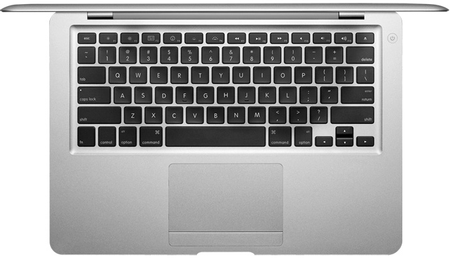 The lid's thin, but tough
The original Air was also available in 1.6GHz and 1.8GHz models, so the processor speeds have barely changed. However, Apple has used a different processor for this model, one of the newer Core 2 Duo processors equipped with 1067MHz frontside bus, up from 800MHz on the original model. The memory has been upgraded to 1066MHz DDR 3, which provides a little extra performance too.