Rackable servers goin' mobile
Watch the police and the tax man miss IT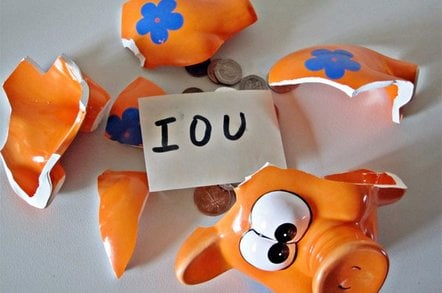 The joke with containerized data centers - putting racks of servers, storage, and networking into shipping containers instead of into brick-and-mortar data centers - is that if you put them in the corporate parking lot, as some vendors have suggested, you only make it easier for thieves to walk off with - well, drive off with - millions of dollars in computing gear.
A new family of small, ruggedized, wheeled racks from Rackable Systems, called the MobiRacks, will take the opportunity for a heist down to a couple ten thousands of dollars in server gear.
The MobiRacks come in four sizes, the compact 5U and 11U and midrange 14U and 16U sizes, and are designed to house rack-based servers, storage devices, networking gear, uninterruptible power supplies, and DC power distribution gear, all in a portable enclosure that takes its inspiration from the plastic cases that high-end tools are stored in. Or perhaps a minibar you want to get through customs without letting someone break into.
The MobiRacks are relatively compact thanks to Rackable's server designs, which are half-depth units that normally plug into a standard-sized server rack two at a time - one in the front, and one in the back. Using these half-depth servers in a MobiRack allows them to be roughly square and to fit in a fairly small space on the floor. They are also light enough to be rolled around pretty easily, at 350 to 421 pounds. In essence, this is a containerized data center suitable for small and medium businesses.
The smallest MobiRack, the MR1000-5U, can house five 1U servers or two 2U servers using Intel Xeon or Advanced Micro Devices Opteron processors, with a maximum of 40 processor cores. The largest MobiRack, the MR1000-16U, can house up to 16 1U servers or eight 2U servers, for a maximum of 128 processor cores. The MobiRacks offer from 10 TB to 40 TB of disk capacity as well.
All of the units take in 110 volt AC power, and depending on the model, servers are designed for DC or AC input power at the server. (The smallest MobiRack is AC-only, and the largest one is DC only; the middle two can do either.) Rackable, of course, is one of the pioneers of distributing DC power only within the rack to create more energy-efficient racks.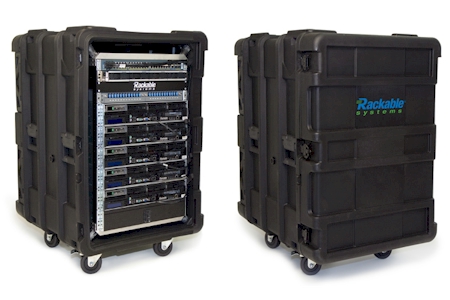 Rackable envisions the MobiRacks being deployed in initial data centers that are not of the traditional raised floor variety - it might be the corner of the factory - and other kinds of harsh environments. The company is not only offering the plastic exteriors in a variety of colors, but is also delivering air-tight and water-tight options. Both of these are problematic for air-cooled equipment, obviously.
The tightness has more to do with when the equipment is being transported than when it is being used. The front and back of the enclosure comes off when it is running. The racks meet shock and vibration standards of the military and air transport companies, too, Rackable says. The company doesn't do public pricing, so heaven only knows what this costs.
If you buy a MobiRack, just make sure you get insurance for the content inside. You'll probably want to get collision and liability insurance, too, while you are at it. ®