Sony prepping PSP 4000?
Could this finally be the PSP Phone?
The PlayStation Portable (PSP) isn't dead yet it seems, because Sony will launch yet another redesign of the handheld console next year, a tech source has claimed.

Two concept PSPs with slide-up screens
The source, which frequents the publishing world, according to Eurogamer's report, said that Sony will unveil a PSP-4000 – the PSP-3000 having been unveiled back in August – late next year.
But the mole couldn't provide any information about potential exterior changes to the console.
It's been rumoured for some time that Sony wants to make the console's screen slide up to reveal a keypad underneath. Several concept designs for how this may work have already been designed by fans.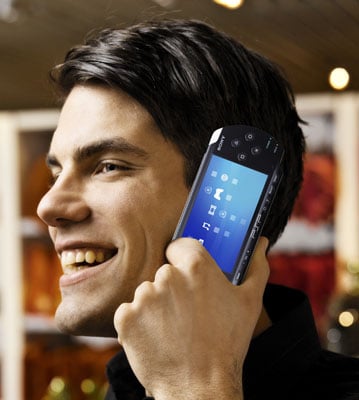 "Yeah I know, they still want a piece of me!"
Why would Sony want a keypad on the PSP though? Well, making the device more text-entry friendly would make the console easier to surf the web with. And if even longer-standing rumours that Sony's adapting the PSP into a phone are true, then the addition of a keypad would be handy in that area too.
Even if Sony didn't make any aesthetic changes to the console, the potential PSP 4000 could at least solve some of the PSP-3000's functionality problems which have plagued gamers since its launch.
For example, Sony admitted soon after the 3000's launch that it was powerless to fix display problems on the console, which cause strange lines to appear across the screen.