Xbox iPhone to welcome Metal Gear Solid
Konami does Jesus phone gaming
We've got some bad news for Xbox gamers, but some good news for iPhone users. It turns out that Metal Gear Solid isn't coming to the Microsoft console any time soon – despite suggestive messaging – and is instead set to launch on the Jesus phone.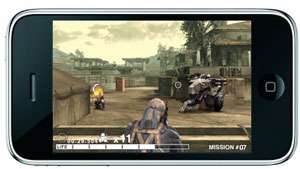 Metal Gear Solid Touch is coming to the iPhone and iPod Touch
The game's publisher, Konami, has now updated its teaser page - which a few weeks ago made fans think that the PlayStation 3 exclusive would appear on the Xbox 360 - with the strap line "Metal Gear Solid Touch".
The presence of the word 'Touch' suggests that the game will only appear on the iPod Touch. However, clicking the available link takes you through to a Konami games download site where titles for both the Touch and the iPhone are already available.
A more definite promise that MGS Touch will appear on the Apple handset comes in the form of two pictures showing the game running on the talker, rather than the Touch.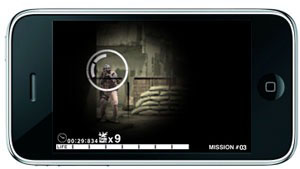 Gamers use the screen to direct their kills
According to several online sources, the game will be based on MGS 4, but it won't be an exact replica.
It'll have eight levels initially, with more to follow later on. Gamers will earn points in the game that can be used to unlock MGS images and wallpapers.
A launch date or price hasn't been confirmed yet.
Sponsored: Detecting cyber attacks as a small to medium business