Datawind PocketSurfer 2R internet palmtop
More 'cheaps' than a budgie
Review Datawind's PocketSurfer 2R is all about delivering the internet on the move, for next to nowt. And that's all. It's not a phone. It's not a fashion statement.
The 2R costs £199 and, if you're careful, there's nothing else to pay to go online for the first 12 months. Go online to check your email, surf the web, get Google to tell you where you are - it's all in the price of the hardware, for as long as Datawind's in business.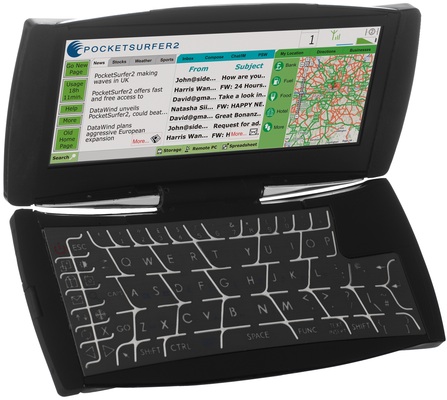 Datawind's PocketSurfer 2R: low-cost mobile internet
The service isn't unlimited. You're restricted to 20 hours of online activity a month, but you can get that limit removed - and Datawind insists that by 'unlimited' it really does mean 'unlimited' - for £6. That's for a single month, but it's an ad hoc payment, not a regular monthly charge. Usage after the first year involves a £40 annual subscription, or you can stump up £60 and be sure you never have to pay a penny to Datawind ever again.
We should point out the 2R's other key feature: cheap roaming - hence the 'R'. Roaming is priced at a 5p a minute across Europe and the US. Elsewhere, it costs 25p a minute.
Given how much the UK's telcos charge for mobile internet usage, that's cheap. The question is, since there's clearly going to be a catch, is all still worth it in the end?

Fingerprint magnet
Catches there aplenty. Here are two: the connectivity and the hardware. The 2R, like its predecessor, connects to the mobile network over a GPRS connection. It's Vodafone for now, but Datawind has no ties. There's no Wi-Fi. There are advantages to GPRS: it's cheap - that word again - and it's more widely available than 3G.
Sponsored: Detecting cyber attacks as a small to medium business