Shuttle X27D
Nice CPU. So why the poor chipset?
Review We had something of a downer on the Intel Atom 230 as the single-core 1.6GHz processor could barely pull the skin off a rice pudding.
Our verdict was that "you can build an incredibly small and cheap PC around the D945GCLF mobo, but the Atom CPU is a severe disappointment on the desktop as it doesn't have the grunt to do any useful work". And we hoped that "perhaps the next-gen, dual-core Atom will make a world of difference".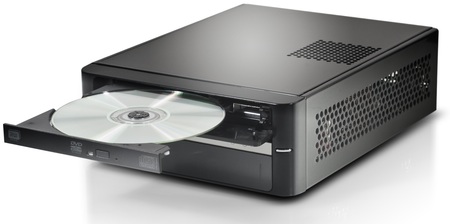 Shuttle's X27D: dual-core Atom on board
With the launch of Atom 330, we've got our hands on a Shuttle X27D - D for 'dual core' - which is very similar to the Intel D945GCLF motherboard that we originally reviewed. The only significant difference is the move from the one cored Atom 320 to the two-core 330 and yes, we are aware that Atom uses Hyper Threading to double up the number of virtual cores.
Shuttle has finished production of the X27 and has switched over to the X27D without changing the price from £199 for a barebones - which we think is jolly civil of it. If you want to buy the X27D as a PC, you'll find it on sale online with prices starting at £321 for a complete system without OS, in case you fancy using Linux instead of Windows XP or Vista. The model code changes when you're looking at a full PC instead of a barebones from Shuttle Barebone X27D to Shuttle X2700B Mini-PC System.
Building a Shuttle barebones is usually quick and easy as most models use regular desktop parts. The tiny X27D chassis only measures 250 x 185 x 70mm and uses a laptop hard drive and optical drive, although the single module of DDR 2 system memory is a desktop DIMM. That's a nice cheap place to start as 2GB of PC2-5300 will only cost £20.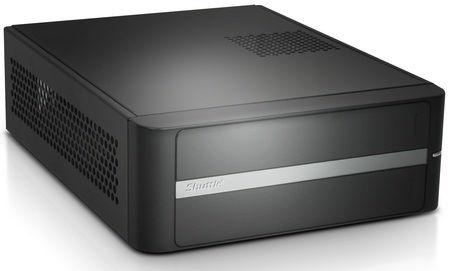 Not expensive to equip
Add in a 160GB notebook hard drive for £40 and the final piece of hardware is the optical drive. A basic DVD writer costs £25 and you may consider spending another £125 to add Blu-ray, but we strongly recommend against this course of action. The Intel GMA950 integrated graphics don't have the grunt to handle HD playback, and the Atom 330 can't pick up the slack.
Sponsored: What next after Netezza?