Samsung SyncMaster 2263DX 22in monitor
A neat idea packed into a nice chassis
The matte coating of the screen itself reduces reflections making it a good choice for environments with lots of glare. The selection of DVI, VGA and HDMI is very nice to see and offers a range of connectivity options for users who may want to use the screen in a more varied multimedia setting.
The main monitor performs perfectly adequately, but we don't think it's going to win any awards. The default 1680 x 1050 resolution, 5ms response time and 1000:1 contrast ratio are perfectly acceptable and the colour reproduction is quite good. There are better options out there, but they're generally more expensive - or at least the same price, but lacking the additional secondary screen.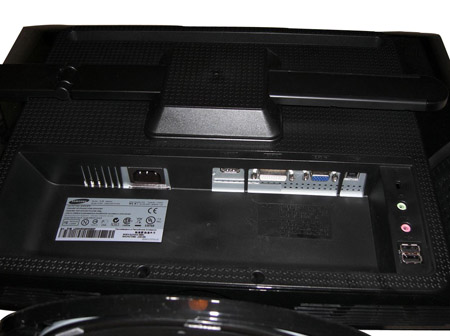 The selection of DVI, VGA and HDMI offers a range of connectivity options
Being based on DisplayLink technology, as you would expect the secondary screen is not designed for performance but for functionality and hence is not suited for anything particularly taxing, but with an 800 x 600 resolution it is nice and clear with good colour reproduction so reading email or instant messages doesn't require squinting.
All in all it's nothing exceptional, but it's certainly no slouch either and for the vast number of users it will be suitable, even for games, movies and other multimedia content.
As with all displays we would highly recommend taking the time to adjust the monitor's settings for optimal use in the environment and requirements of each user. We would also recommend that people make use of Samsung's MagicBright and MagicColor features to make dynamic adjustments depending on what they are doing at the time.
There is one thing that annoyed us about the 2263DX and that is the fact that the monitor's stand is not height adjustable, so you're left either stacking books under the base, or tilting the screen at an upward angle, which seems to work fine until you try and use the webcam, which is now pointing toward the ceiling and not adjustable either. It's a relatively small thing, but can get very irritating very quickly if you frequently make video calls.