Electric car seller hits brakes as UK EV sales plunge
Shock for fans
'Leccy Tech Electric cars sales have tanked in the UK. A mere 156 EVs were sold between January and October 2008, compared to 347 in the same period in 2007 - a drop of 58 per cent. To deepen the gloom, the Nice Car Company has gone into administration.
Nobody was answering the phones at Nice this morning when Reg Hardware tried to seek clarification on the matter, reported by the Times. Nice was founded in 2006.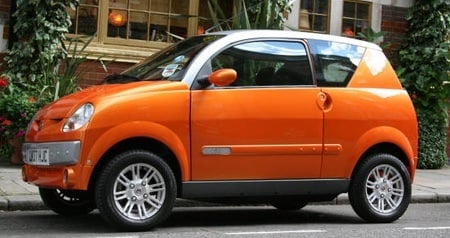 The Nice Car Company's Mega City: the not-so-big Meg
Going Green, which distributes the oft derided – by Top Gear, at least - G-Wiz is also suffering significantly reduced sales year on year despite launching a revised model with improved performance.
Reasons for the crisis? As the public become more aware of the medium time-span arrival of electric cars from major manufacturers, the attraction of what some would call plastic 'leccy kit cars was always likely to wane.
The fact that the likes of the G-Wiz and Nice Mega City don't have to undergo the same rigorous crash tests as the likes of the Ford Fiesta or Vauxhall Corsa – they are classed as quadracycles rather than passenger cars – may also have had a part to play.
More immediate problems may well have come from a lack of joined up thinking in London government, the capital being home to a significant percentage of the country's privately owned electric vehicles.
Firstly, the market wobbled following then Mayor Ken Livingstone's plans to exempt petrol and diesel cars with CO2 emissions below 120g/km from the congestion charge. While that proposal was scrapped by new mayoral incumbent, Boris Johnson, the damage was probably already done.
Secondly, in June the City of London reversed its decision to exempt electric cars from parking charges. That deal was worth around £4,000 a year for those regularly parking in the City. …