AMD tweaks 2009 chipset roadmap
Sets Shanghai loose on Shanghai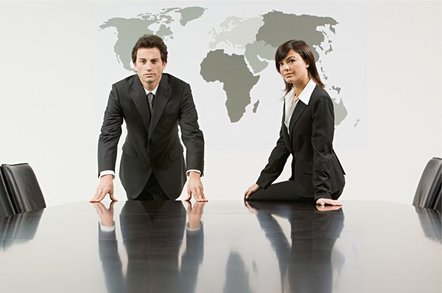 AMD updated its chipset schedule for 2009, adding plans for a new low-end, integrated graphics processor chipset based on the 780G architecture catering to budget DirectX 10 gaming.
The new IGP chipset, dubbed 760G, will debut in January 2009, according to Japan's Digitimes. It will support DirectX 10 and Shader Model 4.0 — but lacks amenities like AMD's Unified Video Decoder, Hybrid CrossFireX for plugging into a separate graphics card, HDMI, and Display Port connections.
760G should eventually replace the current 740G chipset at the low-end of the product market segment. The IGP will be accompanied by a new SB710 Southbridge.
AMD will also launch upgraded 790FX and 790GX IGP chipsets with AM3-computability, which will be paired with its anticipated SB750 Southbridge. In May or June next year, the company will launch an RS880 IGP chipset paired with the SB710 Southbridge. In July or August, AMD will launch a 770 chipset also paired with SB710 to add support for AM3-based processors, Digitimes reports.
Oh, 'hai there
Meanwhile, AMD China is today celebrating the local release of its Shanghai quad-core Opteron processors in Shanghai - a rare example of codename-launch party symmetry. Here in the States, AMD missed a trick when it failed to hold a release bash in Shanghai, West Virginia.
According to the China business pub SinoCast Daily, AMD took "great pains" in choosing the location for its "royal release conference": the Shanghai Supercomputing Center, home of the Shunguang (Dawning) 5000A, the most powerful system built outside the United States. Yes, it runs on Opteron quad-cores.
Dawning 5000A is also the only Windows-based machine in the Top 10 supercomputers list. We're still waiting for Microsoft to curry local favor by renaming HPC 2008 after the Yangtze River.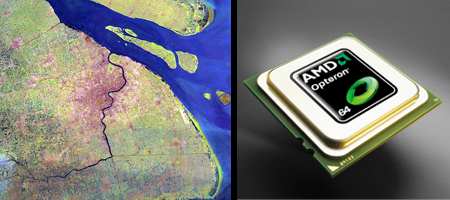 (left to right) Shanghai, Shanghai (Not necessarily shown to scale)
AMD's new Opteron chip offers more bang for the buck and less heat dissipation than the four-core "Barcelona" chips it replaces. ®
Sponsored: Detecting cyber attacks as a small to medium business