Samsung Pixon M8800 8Mp cameraphone
Worth a ponder if imaging performance is a priority
While not up there with the iPhone in terms of smooth, intuitive touch handling, the Pixon's UI carries out its tasks in an easy, functional way. And unlike on some touch phones, it doesn't feel like mis-pressing screw-ups are a problem waiting to happen.
You can easily swipe through lists of control options and tap to select, with haptic feedback confirming keys have been pressed. Contact lists can whizzed through by dragging an alphabetical search tab on the left side of the screen up or down the page.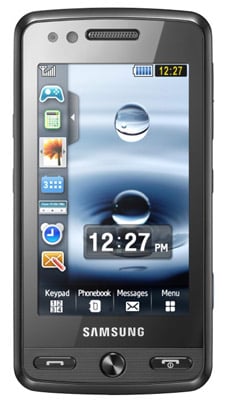 It's not the iPhone, but the touchscreen works effectively
One element of the Tocco that has been improved upon here is text entry. Instead of a virtual phone numberpad as the sole way of typing in text, the Pixon also offers a virtual Qwerty keyboard that pops up automatically when the phone's tilted from portrait to landscape mode in a text app.
The decent amount of space for typing and responsive screen action means tapping in text is accurate and easy to get used to. Handwriting recognition options are available too.
The camera is the star of the show, though. This is the best effort Samsung's yet made in fusing a camera with a mobile phone, with the same high-quality imaging capability as the i8510, combined with an intuitive touchscreen user interface, and a fine range of shooting features.
The autofocus system is fast and responsive, and its automatic metering system adjusts quickly and efficiently to changing lighting systems. There are many adjustments you can make too - the Pixon has one of the most extensive – and clearly laid out – set of photo options we've yet seen on a phone.