Tesla exec quits as rival clocks up major deals
Sparks, Fisker fly
'Leccy Tech More signs that all is not well at Tesla, maker of the leccy Roadster. Posting on his own blog Tesla Senior VP Darryl Siry has revealed he is parting company with the Silicon Valley-based car company immediately "due to some disagreements in strategy".
Coming on top of nasty little war of words between Tesla CEO Elon Musk and company co-founder and Roadster designer Martin Eberhard – Newsweek is reporting that Musk said "Martin is the worst individual I've ever had the displeasure of working with" after Eberhard had referred to him as a "terrible CEO" - this is probably not the sort of PR Tesla needs when it's looking for financial aid from the US Government in the form of low interest loans from the Advanced Technology Vehicle Manufacturing (AVTM) fund.
According to Tesla, Siry will be replaced as Senior VP for Global Sales, Marketing and Service by former Harley-Davidson executive Michael van der Sande.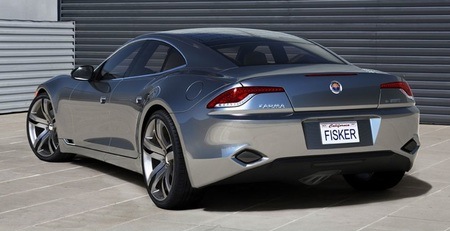 Fisker's Karma: tasty
Meanwhile down the road, things couldn't be more different at rival leccy sportscar company Fisker.
Since coming out on top in its legal spat with Tesla, Fisker in short order has announced a deal with GM to supply it with 260bhp 2.0L DI Ecotec engines for its Karma four-door sports saloon, revealed plans to set up shop at a 34,000sq ft engineering and design facility in Pontiac, Michigan, and detailed a manufacturing deal with Finnish company Valmet Automotive – builder of both the Boxster and Cayman models for Porsche - that should see 15,000 cars a year roll off the production line.
The first cars will reach the US market in November 2009, with European dealers getting hold of it around six months later.
The final production version of the $87,900 (£59,000/€69,000) Karma will be unveiled at the Detroit Motor Show in January, but in the meantime Fisker has released a picture of the finished car's read end. We have seen things that look much worse from the back.