Wireless comms and the end of civilisation
Surviving Survivors
Not that the government will need to rely on public infrastructure: in the event of any emergency wireless links between the three alternative COBRA (Cabinet Office Briefing Room) locations are available, along with connections to the 13 government departments, 9 regional co-ordination centres, 42 "Primary Strategic Co-ordination Centres" and offices in Wales, Scotland and Northern Ireland. These are microwave links, well backed with generators and the option to switch to satellite if necessary - Scotland even has three mobile communication trucks for deployment around the country at short notice.
But government plans are based on 25 per cent fatalities (actually, they are based on up to 25 per cent of the population falling ill, with most returning to work within three months). Survivors posits 90 per cent fatalities, which could necessitate more radical solutions.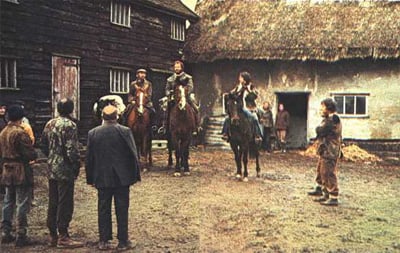 And this is how we'll power the base station generator...
Raynet, the volunteer network of radio hams, can be called upon by government agencies and emergency workers to provide infrastructure and support. Being hobbyists, most Raynet members are pretty self-sufficient, and can establish nationwide communications if needed - so they're worth looking up when the end comes.
Airwave, the TETRA network operated by O2 for the emergency services, should remain operable for a considerable period, even if everyone disappears. Airwave base stations can operate without mains power for at least six hours, but one third of the network will run for seven days (well into the second episode) and a core of 80 sites can operate for 14 days without humans in attendance. TETRA handsets can also talk directly to each other, or use vehicle-based radios as relays, so a handful of Airware handsets should be first on the shopping list for any post-holocaust survivor.
Satellite phones might seem an obvious option, but most route connections though an Earth stations, such as Globalstar's French offices, so can't be relied upon in a global epidemic. The notable exception to that arrangement is Iridium, which offers direct connections, so should remain operational long after the ground-based staff have succumbed to the virus.
But today's Survivors seem unable to communicate, and even dropping into Maplin for a cheap pair of walkie-talkies seems beyond them. In much the same way as their 1970's predecessors spend an inordinate amount of time ironing clothes, their 21st-century descendants can't seem to relate to wireless communications that doesn't have a Nokia logo on it - or perhaps that's just the lamentable state of technical education in today's society.®