Infocus X10 projector
Very high standard entry-level home cinema rig
Review Full HD is what we all want, but until the release of the X10 from InFocus, a projector capable of displaying a full 1080p image would have cost you the proverbial arm and a leg.
With the X10, the full resolution of your Blu-ray Discs is available below the psychologically significant £1000 mark - that's exc. VAT, sorry - making big-screen full-HD home cinema an affordable possibility.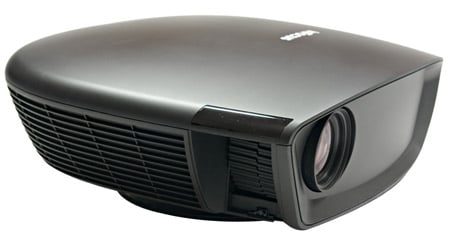 Infocus' X10: matte black - technically, the correct colour
Unlike many previous home cinema projectors from InFocus, which have used a striking glossy piano-black finish, the X10 has an entirely matte surface. It's not as eye-catching, but it is of course the screen which should be catching our eye, not the projector. And, if you're going to be really fussy about it, matte black is technically the "correct" colour not only for the projector but everything else in the room, including the walls and furniture, if you want to avoid reflections or colour casts on your projected image.
Its rather smooth, minimal looks are made possible partly by the use of flush-fitting panels which are used to conceal the lens adjustments at the side and the input connectors at the rear. Unfortunately, these panels aren't permanently attached and would therefore be quite easy to lose as they can be fiddly to fit – especially if you have the projector mounted on the ceiling.
The usual InFocus tilt and swivel stand allows you to place the projector easily on a table top. All the usual mounting orientations are supported, but the lack of threaded adjustable feet makes accurate adjustment considerably trickier than it is many of the machine's rivals. So, if your coffee table isn't quite level, you'll have to resort to wedges under the legs rather than adjusting the projector to compensate.
Sponsored: Practical tips for Office 365 tenant-to-tenant migration