Luke Skywalker's lightsabre goes on sale
But no match for a good blaster...
Consoles a-plenty already offer gamers the chance to wield lightsabres in virtual Star Wars battles. But if you crave something more realistic then go and raid your piggybank, because the film's original lightsabre will go on sale next month.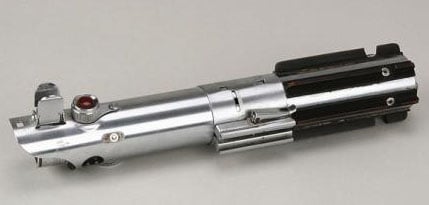 Mark Hamill's lightsabre: an elegant weapon from a more civilised age
It won't connect to your Wii, but the Hollywood auction house behind the sale has stated that the lightsabre was wielded by Mark Hamill in both Star Wars and The Empire Strikes Back.
The lightsabre was pieced together from an old photography flashgun and is estimated to fetch up to £120,000 ($184,000/€142,000), according to a report by the Telegraph.
If you're really into your films then several other notable items of classic movie memorabilia will be up for grabs in the same sale. These include the bullwhip and fedora used and worn by Indiana Jones, which are each expected to sell for around £40,000 ($61,000/€47,000).
A section of the original Death Star, C-3PO's helmet and the 83in flying saucer used in sci-fi film Forbidden Planet will also go on sale. If you want all three then you'll need a spare £153,000 ($235,000/€181,000), at least.
Sponsored: Beyond the Data Frontier