US utilities moot huge electric vehicle order to boost car biz
Don't want the Big Three's electric car plans kyboshed by credit crunch
The idea of somebody picking up the phone and ordering 10,000 Chevy Volts should be more than enough to improve any General Motors executive's day - and it may not prove to be that hopelessly optimistic.
Senior folk at several US electricity generators and suppliers are worried that the current financial turmoil engulfing the Big Three car makers may derail their electric car projects, the Wall Street Journal reports. The answer? Jointly replace their vehicle fleets with 'leccy cars and vans.
The car makers would get guaranteed multi-year orders – something they generally would sell their grandmothers for – as well as getting electric car infrastructure development undertaken by the very people best placed to do so: the power companies.
Meanwhile, the power companies would be creating an internal market for their own product rather than having to buy petrol for their fleets and could develop demand models without running the risk of the grid going tits up due to unforeseen demand.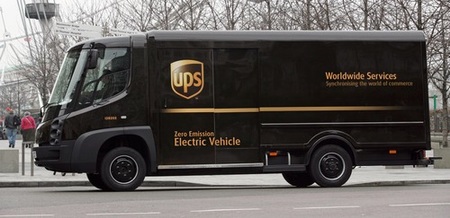 One of UPS' 12 Modec-made electric delivery vans
A couple of recent studies have come up with some persuasive figures. According to the Electric Power Research Institute, if 60 per cent of US light vehicles were electrified by 2050, the national power consumption would only increase by around eight per cent while cutting CO2 emissions equivalent to those produced by 82m cars.
Another study, by the Pacific Northwest National Laboratory, found that 73 per cent of light vehicles could be charged overnight using existing infrastructure and supply thereby saving 6.2m barrels of oil – 52 per cent of current US imports – every day.
It's also the sort of deal that may make Washington re-think the $25bn handout that Detroit is so eager to get its hands on and that is currently held up partly on the fear that rather than being used for anything of long-term environmental value it will simply tide Ford, General Motors and Chrysler over to the next crisis.
Could something similar work in the UK? There is no reason why not. E.ON alone runs a fleet of 5900 vehicles. British 'leccy van maker Modec – which recently announced a deal to supply 12 electric vans to UPS in the UK – would also jump at the opportunity, we suspect.
Sponsored: Detecting cyber attacks as a small to medium business