Nokia 5320 XpressMusic mobile phone
Turn on, tune in... and your calls won't drop out
Any XpressMusic phone buyer is going to zero straight in on the music player. Nokia hasn't introduced any radical user interface changes - you get a familiar list of track categories to browse through and select, and as usual playlists can be compiled, equaliser settings applied and cover art viewed. MP3, M4A, eAAC+, and WMA files are supported, and you can copy music from a PC using the supplied Nokia software, or sync tracks directly with Windows Media Player. You can use Bluetooth or USB - drag-and-dropping in mass-storage mode is another option.
The standard music player controls on the side work effectively, doing a similar control job to the navpad when the player is on screen, but also enabling you to operate the device while the player's on in the background, with track details shown in a small bar on screen.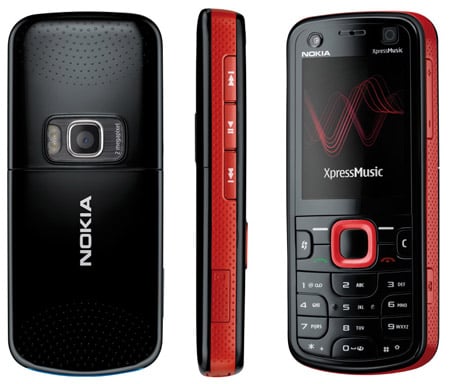 Effective music player controls
We found the Say and Play voice control option to be more a fun gimmick than a brilliant new way to select tracks. If it worked every time, it would be very impressive, but in practice it's hit and miss. It's clever when it works and recognises what track you've said – and is the kind of gadgetry you'll show off to friends – but we found that it played the right tunes only some of the time. The random nature of what it brought up had its own quirky appeal, though.
As we like to see on any aspiring music phone, the 5320 has a 3.5mm earphone socket. The music player is capable of an excellent, rich and detailed audio performance – though you'll need to add better quality earphones than those supplied to really appreciate it.
The boxed set are average-quality Nokia earphones: a two-piece set giving you the option of listening with a handsfree headset or just the cans. You can try Bluetooth stereo headphones too, or use the loudspeaker, which can be loud but is typically harsh on the ears. An FM radio is included too, which works well.
Nokia has linked this phone up to its Nokia Music Store, so you can download full tracks over the air - watch out for extra data costs though. The HSDPA connectivity - up to 3.6Mb/s - means songs or video clips can be received in just a few seconds. A podcasting application also enables you to search for, subscribe to, and download podcasts quickly over the air.