'Unappealing' electric cars a 'tragedy', cries Nissan chief
Electrification shouldn't mean unappealing cars, says Ghosn
'Leccy Tech Nissan chairman and Renault SA co-chairman Carlos Ghosn tacitly called for better-looking electric cars when he gave his keynote speech at the Los Angeles Motor Show.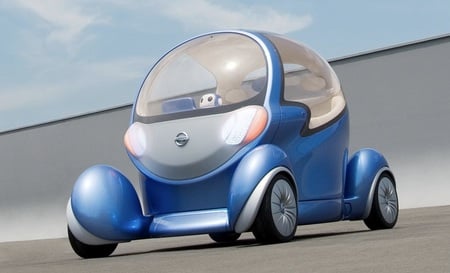 Nissan's Pivo concept: not what the company chief has in mind...
Thankfully, Ghosn doesn't see the move the electric vehicles as meaning an end of cars as objects of desire. "We need to make an appealing car. If people see it and say, 'Oh, that's an ugly car but it's electric', that will not do... the day we see our cars as a commodity to be bought and sold, that day is a tragedy."
Ghosn also reiterated Nissan's belief in the separation of car and battery. The thinking behind this is twofold, he said: as better batteries become available, customers can get them in a more timely fashion and, at the end of their useful life, spent batteries can be easily recovered and recycled.
Ghosn's speech dwelt heavily on green issues and he noted that with the global vehicle numbers expected to quadruple by 2050 from the current 600m vehicles on the roads today, the move to ZEVs is unavoidable.
Ghosn forecast there will be 10m electric vehicles in the world by 2016, 5m of them in the US.