Larger all-in-one desktop Eees en route?
Two more models planned, claim sources
Asus will launch two larger Eee Top desktop PCs next year, sources close to the company have claimed.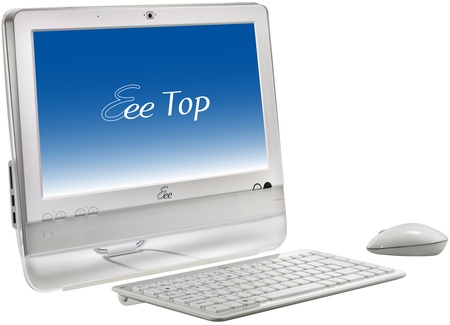 Asus' 15.6in Eee Top (above) could be joined by 20in and 22in models next year
Unnamed "market sources" have told DigiTimes that Asus will unveil 20in and 22in Eee Tops during the first half of 2009.
The firm launched its first Eee Top touchscreen desktop PC earlier this month. It has a 15.6in, 16:10-ratio display with a 1024 x 600 resolution. The machine's based around a 1.6GHz Intel Atom N270 processor with the chip giant's GMA 950 integrated-graphics chipset.
Specifications for either of the larger models haven't been leaked yet.
The report also claimed that Asus' CEO, Jerry Shen, has stated that manufacturing of the 15.6in model has been outsourced to Taiwanese firm Quanta – which makes machines for many of the industry's biggest names, including HP and Toshiba.
It's reasonable to assume that the 20in and 22in models will also be produced by Quanta, although it's worth noting that Asus also has manufacturing links with other firms, including Foxconn and Pegatron Technology.
Sponsored: What next after Netezza?