Asus Eee PC S101 luxury netbook
An Eee to truly challenge thin'n'light laptops
When the S101 first arrives, everything about it looks fantastic - from even the carefully designed box to its shiny gloss finish. However, after about an hour or so of pawing it soon starts to show greasy finger marks. In addition to a plush slip case, Asus has thoughtfully included a cloth so you can at least give it a good polish if the paw marks get too much to take.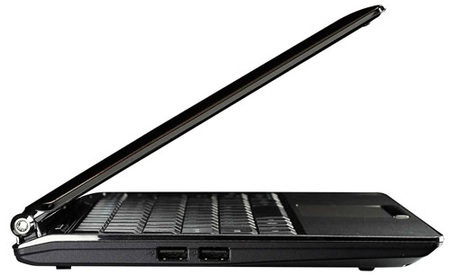 Ports on the left...
Unlike other SCC models, where the screen slides down behind the main body when you open it up, the S101 rises up making it a little bit higher when you're working. The keys are a touch on the small side - especially if you've got sausages for fingers - but with a little care and practice it's not that difficult to type on. The keys also glisten slightly, as they're embedded with glitter - which may or may not appeal, depending on your personal preference.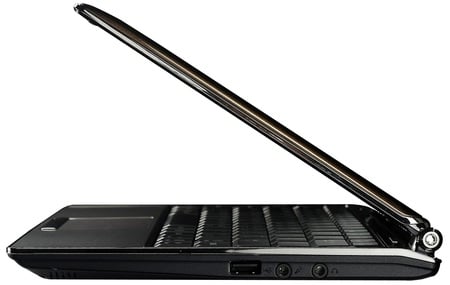 ...ports on the right
You get the full complement of Function keys along the top, and the keyboard is packed with Fn-based shortcuts for things like volume, screen brightness and wireless. At the top, above the keyboard, you'll find two further buttons - the one on the left cycles through power modes while the other powers the laptop on and off.
The touchpad is surprisingly large for such a small machine, with the left and right buttons combined into a single switch that runs the entire width of the touchpad.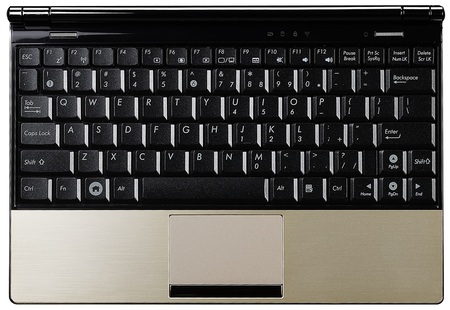 The keys glisten, but at least the trackpad's large
So far, you could be forgiven for thinking that the S101 - as attractive as it is - is simply a regular SCC, albeit in a very pretty case. Running it through our standard set of tests, however, you can see where the rest of the money has gone.