Sapphire Radeon HD 4850 X2 dual-GPU graphics card
One card, two very fast graphics chips
Review The thinking behind the ATI Radeon HD 4870 X2 seems quite clear. One 4870 and a bunch of GDDR 5 is the basis for a decent graphics card that costs £200-240 but lacks the grunt to take on the GeForce GTX 280. Join two 4870s together on a single card and you have the "fastest gaming graphics card in the world", allegedly.
As an added bonus the £399 price is marginally cheaper than buying two individual 4870s.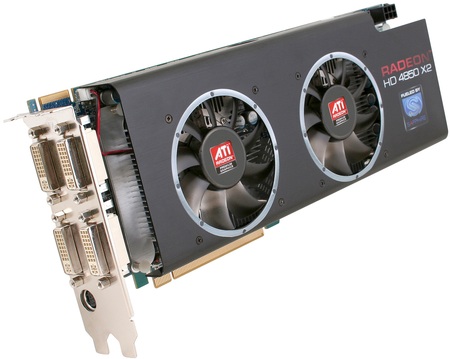 Sapphire's HD 4850 X2: four DVI-I ports, anyone?
The Radeon HD 4850 X2 follows the same blueprint by joining two 4850s on a single graphics card, but it's a different proposition. The 4870 X2 was manufactured by AMD and marketed by its partners, while the 4850 X2 is made by the partners themselves. To date, this Sapphire card is the only 4850 X2 we've seen and we suspect that the strength of the dollar will kill off plans by some other companies to follow it.
The problem is that a 4850 X2 with 1GB of DDR 3 will sell for the equivalent of $369. The 2GB version is $419. In a sane and righteous world, we'd be looking at UK prices of £219 and £249, respectively, that compare quite favourably with a 1GB 4850 at £135 and a 2GB model at £165. Unfortunately, however, you can expect the two Sapphires to go on sale at £270 and £317, which is the same price as two individual 4850 cards.
There's a superficial similarity between the Sapphire 4850 X2, AMD's 4870 X2 and Nvidia's GeForce GTX 280: all three cards are double-slot designs that are very long. The 4870 X2 and GTX 280 measure 267mm in length, while the Sapphire is a tad longer, at 285mm. The Sapphire design department has clearly been hard at work, and while the 4870 X2 has a humongous weight of 1218g the Sapphire comes in at a sprightly 764g. To put that in context the GeForce GTX 280 weighs 908g.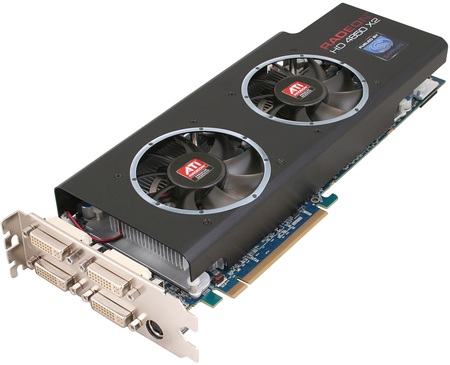 Two fans make card light
The GTX 280 and 4870 X2 each use a single cylindrical 70mm fan that blows air the length of the card until the hot air exhausts through the vented bracket. In the case of the 4870 X2, the heatsink is a slab of copper, which explains the weight of the card, but Sapphire has chosen to install an aluminium heatsink on each of the 4850 GPUs, with a pair of 75mm fans to keep everything cool. They are the sort of coolers that you use on a CPU. The heat exhausts inside the PC case, so you may well need to consider some additional case cooling as the Sapphire draws 165W in Windows and 280W during a gaming session.
The black shroud you see in the photos is a piece of curved aluminium that pretties up the card and helps to keep cables out of the fans.