HP beats street on Q4 but reins in Q1 outlook
Uncommon currency hurts revs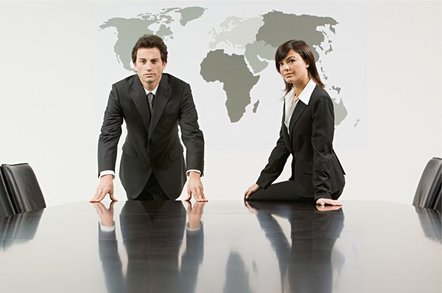 HP made some rivals realise just how badly they're doing when it today announced preliminary fourth quarter results that showed it edging ahead of analysts' forecasts.
At the same time it showed it was not entirely immune to the economic environment, as turbulence on the foreign exchange markets forced it to trim its outlook for the current fiscal year.
The hardware and services giant turned in revenues of $33.6bn for its fourth fiscal quarter, up 19 per cent on the year - or 16 per cent when adjusted for currency effects. However, once EDS was excluded growth was five per cent, or two per cent adjusted, suggesting that either EDS was a really smart buy, or someone needs to pull up their socks in HP classic. Or perhaps both. Earnings per share were $0.84 GAAP, or $1.03 adjusted. Wall Street had been expecting $1 per share on revenues of $33.09bn.
CEO Mark Hurd took the chance to blow the corporate horn, albeit tastefully. "HP delivered another solid quarter as it continues to benefit from its global reach, diverse customer base, broad portfolio and numerous cost initiatives," he said in a statement. "Our ability to execute in a challenging marketplace differentiates HP, enabling it to increase share, expand earnings and emerge from the current economic environment as a stronger force."
That said, even HP will have to face some buffeting before the current economic storm blows itself out. It said that an unfavourable year on year currency impact will hit its first quarter results to the tune of five per cent, and six to seven per cent for the full year.
HP expects its first quarter to bring in revenues of $32bn to $32.5bn, with earnings per share of $0.80 to $0.82 GAAP and $0.93 tp $0.05 non GAAP. This compares to the $0.93 on $33.72bn Wall Street was expecting. The difference would appear to largely equate to the currency impact.
For the full year, it should turn in $127.5bn to $130.0bn, with earnings per share of $3.38 to $3.53 GAAP, and $3.88 to $4.03 non-GAAP. Wall St had been braced for $3.85 per share on revenues of $135bn.
Quite how it will overshoot analysts' earnings forecasts while falling short of their revenue forecasts wasn't made clear, though HP's employees might have a few ideas. Hurd will no doubt explain more when it announces its full fourth quarter numbers later this month. ®
Sponsored: Practical tips for Office 365 tenant-to-tenant migration