Chrysler: the future's bright, the future's electric
More ZEOs, fewer Peapods, please
'Leccy Tech Lou Rhodes, Chrysler's VP of Advanced Engineering, has said electric cars are central to the motor company's future and key to "a long-term viable business for Chrysler."
Some observers are questioning whether or not Chrysler actually has a future as an independent car maker, but not Rhodes, who sees the company prospering as a preferred purveyor of 'leccy tech.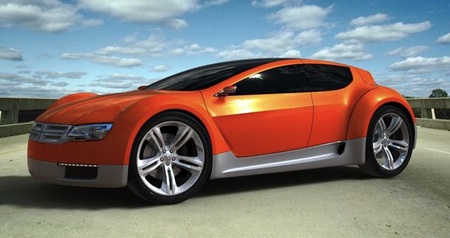 Dodge's ZEO: more of this...
Back in September, Chrysler announced three electric cars: an all-electric Lotus-based sports model and two extended-range vehicles based on the Jeep Wrangler off-roader and the Chrysler Voyager SUV. One of these models will be available from a limited number of dealers in the US during 2010 before rolling out nationwide, said Rhodes.
Speaking at the Automotive News Green Car Conference, Rhodes also said that Chrysler engineers are working on modular battery packs that can be installed in a number of vehicles.
Rhodes also reiterated Chrysler's belief that a Neighbourhood Electric Vehicle – NEV - along the lines of the Peapod will be the first affordable electric vehicle for many consumers.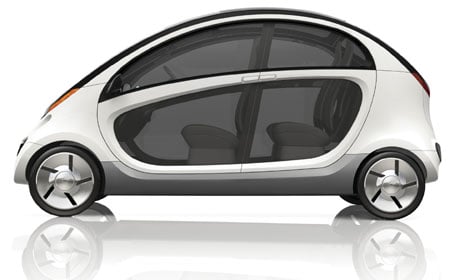 Chrysler's Peapod: ...and less of this, please
We hope Chrysler's electric ambitions bear fruit, not because of the Peapod or its three grown-up siblings but because of the Dodge ZEO concept, which was shown earlier in the year at the Detroit Motor Show but overshadowed by the Chevy Volt. In these straightened times, the ZEO will get a second bite at the apple at the Los Angeles Motor Show that kicks off later this week.
With a 64kWh lithium-ion battery pack giving a range of 250 miles on a full charge, and a 200kW (268bhp) single-electric motor giving a 0-60 time of under six seconds, the rear-wheel drive 2+2 ZEO is the sort of electric cars most of us may actually want to be seen dead in.
Chrysler ZEO Picture Gallery