Dell Studio Hybrid mini desktop PC
Curvy, slim and sexy
Review For years, laptops have relied on desktop computer technology hand-me-downs, so it's only fair that Dell's Studio Hybrid is a desktop that makes use of laptop parts.
It's done so in the name of miniaturisation. Using Intel's mobile technology, with its greater power efficiency, means Dell can shrink the Studio Hybrid down to a box that's barely bigger than our Western Digital MyBook external hard drive. Indeed, one Reg Hardware staffer, glancing across the office at the unit being unpacked, thought that's what it was.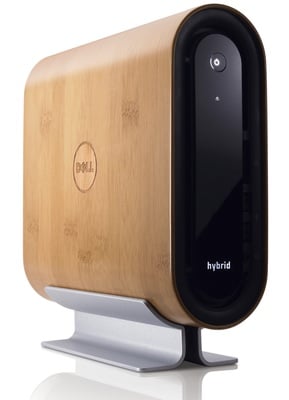 Dell's Studio Hybrid: tubular belle?
The Studio Hybrid measures 211.5 x 71.5 x 196.5mm, and it's Dell's Tube to Apple's Mac Cube. Like the ill-fated Apple desktop, the Studio Hybrid packs the internals into a unit that then slots into a clear plastic shell, an oblong-profile cylinder in this case. Undo a screw in the base and the gubbins slip out, though this is more because Dell wants to sell you alternative, different-colour sleeves than for practical, upgrade-oriented reasons.
Unlike the Asus Eee Box mini desktop we reviewed last month, the Studio Hybrid is designed to be mounted vertically or horizontally, and it comes with a clever multi-part stand that can be easily adjusted to support the desktop whichever way up you fancy it. There's no preferred orientation: the Studio Hybrid uses a SATA-connected slot-loading multi-format DVD rewriter that's happy to suck in and spit out your discs however it's positioned. Don't forget, though, that this means it's not happy with mini CDs and the like.
The drive slot's cunningly integrated into the front of the Studio Hybrid's venting, as are the front-facing 3.5mm headphone socket, two USB ports and umpteen-in-one memory card reader.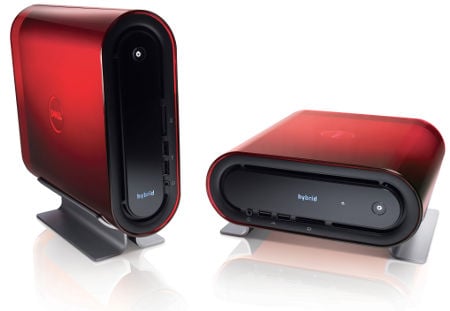 Keep it up or lay it down
Round the back, past backlit Dell logos on the sides, you'll find three more USB ports plus Ethernet, HDMI, DVI, four-pin Firewire, SPDIF and analogue audio connectors. There's the fan outlet too and a switch to pair the Studio Hybrid with the wireless keyboard and mouse Dell bundles with the machine. There's no Bluetooth on board, so we assume this is proprietary 2.4GHz wireless technology. Our review unit came with standard wired mouse and keyboard - ahem - so we couldn't check.
Sponsored: Minds Mastering Machines - Call for papers now open