HP fine-tunes Opteron rack box for nonexistent servers
Boosts virtualized blade bandwidth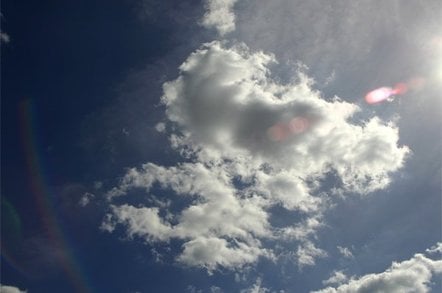 SC08 Who can tell why server makers do what they do sometimes? Instead of announcing its new Opteron-based DL385 G5p virtualization-tuned rack-mounted server last week, when Advanced Micro Devices debuted its "Shanghai" quad-core Opteron processors, Hewlett-Packard decided to wait and launch the box concurrent with the Supercomputing 2008 trade show going on this week down in Austin, Texas.
If there is a customer set that is not yet particularly interested in server virtualization, it is the high performance computing set. HPC centers want to rip every non-essential piece of hardware and software out of boxes to squeeze the most work out of every clock cycle and bit of memory and I/O bandwidth. But, perhaps because SC08 is being hosted in Dell's hometown, HP wanted to save a little something to steal a little thunder from its competitor, particularly because Michael Dell is giving the keynote address at the event tomorrow.
So without further ado, the new server.
The two-socket, 2U form factor is the volume box in the server racket, and HP is the volume leader in this area. Because HP is in its quiet period before its earning announcement on November 24, the company can't give out any precise stats on how many of these boxes it sells and how many are based on Opterons these days. But the Shanghai chips can hold their own on many workloads against Intel's latest Xeons, especially when thermals are taken into account or efficiency on virtualized server workloads.
The DL385 G5p is a two-socket box in a 2U form factor, and it is based on AMD's Shanghai Opteron 2300 series of quad-core chips. Because AMD is only shipping 75-watt standard parts right now, that's all HP can ship (inside this box). But presumable low-voltage, lower-power Shanghai HE parts and faster (and a lot hotter) SE parts will be made available on the DL385 G5p. For now, customers get to choose from 2.4 GHz, 2.6 GHz, and 2.7 GHz Shanghai chips, all of which sport 6 MB of L3 cache and 512 KB of L2 cache per core.
AMD is touting the much-improved virtualization support that has been burned into the Shanghai chip's electronics, part of its AMD-V features. HP no doubt will try to use this support as well as other features, outlined below, to make the case for server virtualization and consolidation on this new box.
With the Shanghai version of the DL385, HP is doubling the memory slots on the box to 16, providing a maximum of 128 GB of main memory in the system using 8 GB DDR2 DIMMs. The machine obviously supports the 800 MHz memory that Shanghai's integrated memory controller supports. The box also has four Gigabit Ethernet NICs (two times the earlier DL385). And extra memory and network bandwidth is important for customers using two-socket boxes for server virtualization because VMs like a lot of memory and Ethernet links.
Also, the improved DL385 has been rejiggered to support twice as many drives as its predecessor. The machine supports the standard six 3.5-inch SCSI or SATA drives, for a maximum of 6 TB of disk capacity, but customers who opt for 2.5-inch small form factor SAS disks can put up to 16 drives in the machine, for a max of 2.3 TB using 146 GB SAS disks. Krista Statterthwaite, group manager for ProLiant DL rack server marketing, says that HP will support 300 GB SAS drives in the machine "very soon." The machine has six PCI slots, which use a mix of rise cards to deliver a range of PCI-Express and PCI-X slots for peripherals.
The DL385 G5p is available now, and supports Windows and Linux as its primary operating systems. A base configuration costs $2,259.